Gold is often considered to be a hedge against inflation, and arguably, it has performed well during certain inflationary environments. In the late 1970's and early 1980's, for example, while prices for food and oil sky rocketed, gold saw highs that weren't touched until just a couple of months ago, some thirty years later. But, as we have pointed out  previously, gold doesn't just rise during times of inflation, and in the case of the the 1990's, gold remained fairly stable around the $300 price point for the entire decade, even though inflation continued to eat away at the purchasing power of US consumers.
It wasn't until 2002 that we began to see gold rise again. Following the financial crisis of 2008, gold started a parabolic upswing that continues today.
This begs the question: If gold doesn't necessarily rise during inflation, then what is driving it?
The answer is simple, really.
Just ask the people of Greece, who a year ago were willing to pay $1700 USD per ounce of gold while riots broke out all around them, even though the "open market" exchange price of gold was trading for $1100.
Or, we could ask the people of Belarus, who woke up to quite a surprise this morning:
Belarus has cut the official value of its currency against the dollar by 36%.

…

The dollar now buys 4,930 roubles at the official rate, up from 3,155 – but still well below the freely-traded interbank rate of about 7,000 roubles.
The country faces a severe financial crisis, thanks to a large trade deficit and rapidly falling hard currency reserves.

Source: BBC
Gold (and hard assets like food) are the only protection for government instability. And, while price inflation can certainly be seen in goods other than gold, it is our view that inflation and hyperinflation of a country's currency are nothing more than symptoms of bad policies and unstable government.
The US government and economy may not have yet completely collapsed, but it's clear that those seeking to preserve their wealth and purchasing power aren't taking our fiscal and monetary problems for granted. It is the fear and the loss in confidence of our government's ability (and those of the rest of the world) to manage the financial crisis and stabilize the economy that is leading concerned individuals, investment firms and pension funds to seek safety in the precious metals that civilizations have turned to for centuries when the S hits the fan.
While the global economy is reportedly recovering and production and consumption is painted as returning to normal, the clear fact of the matter is that the world's leading economies, namely the United States, are on the brink of disaster. The seriousness of the USA's position was confirmed in a letter from Treasury Secretary Tim Geithner in January in which he suggested that if the US wasn't provided more loans, the US would have to default on certain debts. As we breached the debt ceiling a couple of weeks ago, our Treasury Department gave us a preview of the implications of such a sovereign debt default when it raided government pension accounts to make payments.
In recent weeks there has been a lot of talk about how a US debt default might happen. While such a default is unlikely simply because the US has the printing press for the world's reserve currency, a continued devaluation through monetary easing, or potentially an outright devaluation of the US dollar akin to what we saw in Belarus today are serious possibilities in the near future.
The Rules Governing a US "Credit Event" and Debt Default Contingency:
Discussion of a US debt default remained in the sphere of tin foil conspiracy for years. It is now at the forefront and being discussed by the mainstream media, albeit dismissively.
The reality is that we as a nation are in trouble and the only solution that the leading economic minds have been able to come up with is to increase spending (which forces us to borrow more money) and to print more money to cover any borrowing shortfalls.
Clearly, this is a recipe for disaster, and one which will lead to either an all out default on our debt, a Belarus-style devaluation (The US saw a similar devaluation of our currency under Roosevelt), or devaluation through protracted monetary easing over months and years.
All three cases result from an inability of the US government to manage its fiscal and monetary policies, as well as the financial crisis.
We know from history, that when governments lose the confidence of the people, there's one asset that can be turned to in order to preserve wealth, purchasing power, and personal stability.
You can prepare for such a possibility now, or you can wait until the day after and end up scrambling for hard assets like thousands of people in Belarus today: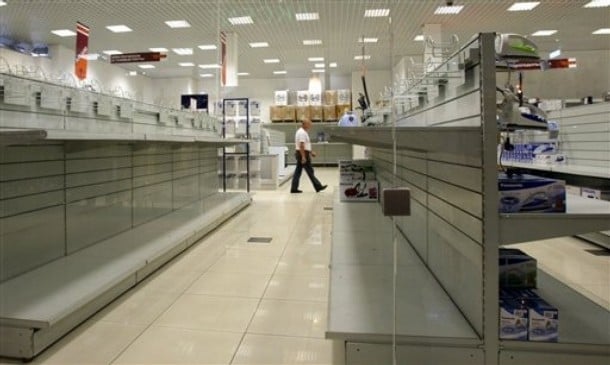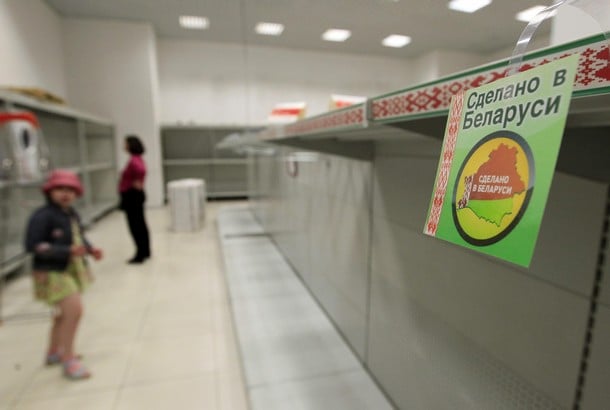 (Visitors look at empty shelves in a shop in Minsk, Belarus, Monday, May 23, 2011. Belarus is facing a severe downturn, with hard currency reserves plunging 20 percent in the first five months of the year to less than $4 billion, and staple foodstuffs vanishing from stores)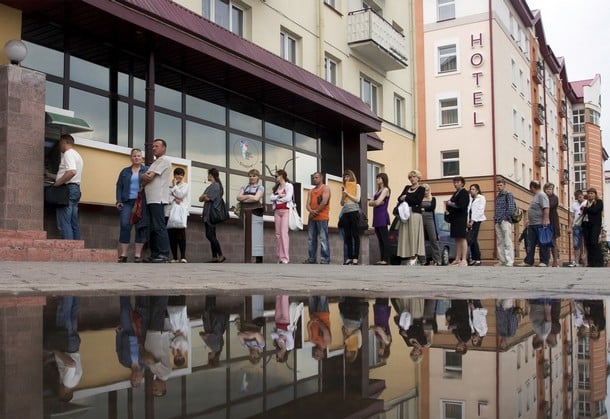 (People stand in a line to use an ATM in the Belarussian town of Grodno, some 260 km (161.55 miles) west of Minsk)