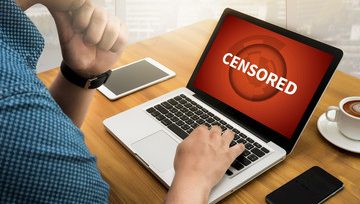 In a five-hour-long congressional hearing, the masters have demanded that Big Tech companies censor the slaves even  more "aggressively." The chances of this descending into a civilized society from here are becoming smaller by the day.
Should Big Tech fail to comply with the demands of the ruling class, they will "face legislative" retaliations like the rest of us.  Has the master bitten off more than he can chew at this point?
The hearing — convened by the House Energy and Commerce Committee's Chair Rep. Frank Pallone, Jr. (D-NJ), and the two Chairs of its Subcommittees, Mike Doyle (D-PA) and Jan Schakowsky (D-IL) — was one of the most stunning displays of the growing authoritarian effort in Congress to commandeer the control which these companies wield over political discourse for their own political interests and purposes. –Glenn Greenwald, Greenwald.com
The tech giants are being tasked with helping to keep the slaves in line and if they dissent, they will be punished right alongside all of the rest of us. Has anyone wondered why they continue to bow to the rulers? Fear of punishment. That's it. Anyone who thinks that government is anything more than slavery at this point has some rather strong delusions. We had all better wake up.
Republican lawmakers were upset that conservative voices were being silenced in order to promote a liberal political agenda. As Greenwald accurately points out, that complaint is only partially true: a good amount of online censorship, like growing law enforcement domestic monitoring generally, focuses on all anti-establishment ideologies, not just the right-wing variant. God forbid people begin to understand that they don't need a master or a ruling class or to be enslaved to someone else in order to be on this Earth. God forbid people are exposed to the idea of living without a ruler.
It is vital not to lose sight of how truly despotic hearings like this are. It is easy to overlook because we have become so accustomed to political leaders successfully demanding that social media companies censor the internet in accordance with their whims.

Words cannot convey how chilling and authoritarian this all is: watching government officials, hour after hour, demand censorship of political speech and threaten punishment for failures to obey. –Glenn Greenwald, Greenwald.com
They treat us like slaves because we act like slaves. It's time to wake up. Prepare yourself mentally, because this is turning out to be a battle for the very minds of the people the rulers seek ultimate control over.