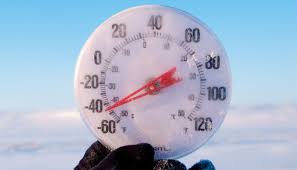 A large lob of a Polar vortex is set to snap off and ice a large area around the Great Lakes and Upper Midwest by the beginning of next week.  This will be the most extreme cold that the area has faced in a generation.
The prolonged and life-threatening cold spell will see temperatures plunge to about 40 degrees Fahrenheit below average. Parts of Minnesota could see temperatures plummet to -60 degrees Fahrenheit, while large areas will see -50 or  -40, according to The National Weather Services Twitter post. 
Wind chills will fall to dangerous levels in the Upper Midwest this week, and should be the coldest since the mid-1990s in parts of the eastern Dakotas, Minnesota, Iowa, Wisconsin and northern Illinois. Wind chills falling below -40 can cause frostbite on exposed skin in minutes. pic.twitter.com/FFVZe1xGhD

— NWS Weather Prediction Center (@NWSWPC) January 27, 2019
Those in the areas that could get extremely cold should begin making preparations for such.  Stay off the roads if you can, and if you must go outside, prepare by wearing several layers of clothing.
When preparing for a cold snap of this magnitude, many would suggest having a backup source of heat that is not on the grid:  a woodburning stove, for example.  Although this may not be enough time for most in the harshest parts of this polar vortex to outfit their homes with a woodburning stove, extra blankets, hats, and coats should be readily available in case the power goes out taking your source of heat with it.
The Weather Service also that warned frostbite can occur to exposed skin within minutes under such extreme conditions. "Make sure your heating system, pipes, etc. are as well-prepared as possible," it advised. "It may be wise to stock up on groceries between now and Monday evening so outdoor time is minimized."
According to Science Alert, cold air is already seeping into the U.S. Madison, Wisconsin's temperature sank to a record-crushing -23° F (-30°C) on Saturday, its lowest temperature in nearly 23 years. On Sunday, International Falls, Minnesota tumbled to -46° F (-43°C), the fifth lowest temperature it has ever recorded.
"There's no mild way of saying it. Brutal cold is coming," the National Weather Service office serving Chicago tweeted. It is predicting air temperatures close to -20°F and wind chills of -35°F to -45°F Wednesday morning.
https://www.shtfplan.com/headline-news/farmers-almanac-prediction-we-are-calling-for-teeth-chattering-cold_08272018