My son, a second grader, recently brought up a conversation at the dinner table about polar bears. He says that he learned in school that the polar bears are in danger of going extinct. Later that evening, our cousin, a teacher at a local government school joined us, and I brought up the polar bear discussion to get her take on it and to vent some of my frustrations with public education.
Environmentalists and mainstream news will often post photos like the one below to get their 'point' across about the threat to polar bears: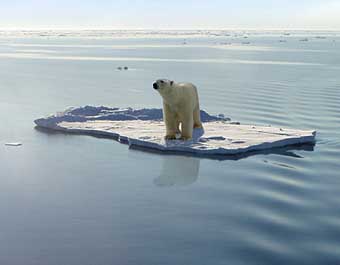 The publisher of this particular image says the following:
A polar bear managed to get on one of the last ice floes floating in the Arctic sea. Due to global warming the natural environment of the polar bear in the Arctic has changed a lot. The Arctic sea has much less ice than it had some years ago.
Are we really to believe that this polar bear was standing on a piece of tundra or land, and then all of a sudden this little sheet of ice broke off, and the polar bear just floated away, into oblivion? Perhaps this will convince a seven year old, but adults who believe this need to have their heads examined.
If I were a polar bear, and this is just me, and a sheet of ice like this broke off while I was standing on it, I figure my survival instincts might kick in and I may attempt to walk back over to the main sheet of ice — the cracking below my feet would probably have been a big indicator that something on this piece of ice just isn't right: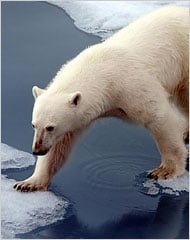 It is also important to note that polar bears can reportedly swim up to 60 miles without resting, at speeds of 4 – 6 miles per hour. So, even if the polar bear had fallen asleep for half of the day, when they woke up, they would be perfectly capable of swimming back to land.
Clearly, these pictures are taken out of one context and put in another.
I suspect that these pictures, that are often used to press multi-million dollar funding agendas in Washington, are staged, kind of like that climate change data, which we've learned was manipulated by not just the scientists doing the research, but the heads of the research departments.
Because we're always inclined to question mainstream thought, we wondered if perhaps an aspiring environmentalist may have baited the piece of ice with some food. Or perhaps the polar bear itself was hunting for food, and it happened to be hunting from that piece of ice. Turns out, this happens all the time in the Arctic: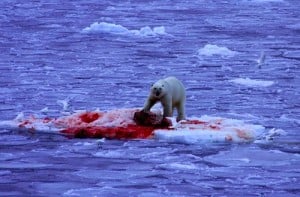 I discussed these ideas with my son and our cousin the teacher. I pointed out to our teacher cousin that the polar bear is not going extinct and that the information they were giving these kids in school was less than truthful and indicated that there was a hidden agenda. Our cousin, naturally, responded defensively and said that the teachers don't (at least she doesn't) teach that the polar bears are going extinct. They teach the kids that the polar bear's habitat is in danger.
While that's all well and good, I responded, the message being taken away by these kids has nothing to do with the habitats, but the polar bears themselves. Their minds are impressionable at that age, and it is very easy to convince a child (and most adults), that if one thing is true, then the other must be too. In this case, if the habitat is in danger, then assuredly the polar bear must be too and that's why they are going extinct.
It is also important for me to point out that while the teachers enable the indoctrination of children on many different subjects, most of them do not have bad intentions. Our teacher cousin is a great person, a stand up individual and teaching and guiding children is what drives her.
Many teachers have simply, and without critical assessment, subscribed to the theories presented to them by superiors and through social pressures. While ignorance is not an excuse, it is important to understand that we are all involved in this, and chances are, most of us have no idea what our role in the system really is. This is why critical thinking, inquisition and revolutionary thought are important — on all levels. The agendas are everywhere, and you yourself are not immune to the spread of this infectious disease.
We'll make note of two things regarding the polar bears:
1) The polar bear population is growing and has been growing for several decades. In the 1950's the population was estimated at 5,000 polar bears globally. Today, that population is closer to 25,000
2) The polar bears have a really, really big habitat area. Each polar bear's "home" is roughly 150 miles or so of territory, but the entire polar habitat is massive and covers tens of thousands of square miles: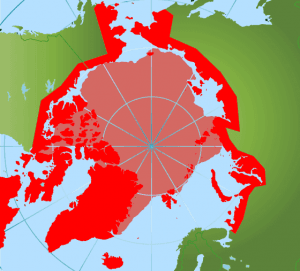 Even if half of the ice in the Arctic were to melt, which we don't think it will, we think the 25,000 or so polar bears would still be able to find a place to live and food to eat.
Hence, it's fairly clear that the polar bear is just fine and this is nothing more than an attempt to mold the minds of young children to support an ever growing globalist environmental agenda. Today it's polar bears, tomorrow it's climate change, and once they're adults they'll readily support laws like Cap & Trade and global UN taxes that will further enslave them.
Connect the dots and you can see how the game of globalism, control, taxes and enslavement plays out on a variety different levels and infiltrates every aspect of our lives.
This has been an exercise in identifying and understanding propaganda and how it is used to control your thoughts, perceptions, emotions and responses.
Also Read:
Howard Dean Demonstrates the Propaganda of Polls
Conspiracies, Propaganda, Covert Internet Agents and Your Mind