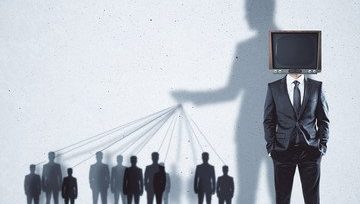 Mainstream media has been lying to us pretty much every second of every day while providing cover for the ruling class and fomenting a divide amongst the slaves. They just got caught lying about the death of the police officer who died on January 6 during the "insurrection" at the capitol.
If you can even call it an insurrection at all, a police officer died while there.
It was crucial for liberal sectors of the media to invent and disseminate a harrowing lie about how Officer Brian Sicknick died. That is because he is the only one they could claim was killed by pro-Trump protesters at the January 6 riot at the Capitol.

Just as with the Russia Bounty debacle, they will never acknowledge what they did. Their audience wants to be lied to for partisan gain and emotional pleasure. -Glenn Greenwald
The New York Times blatantly lied on January 8 when they published an emotionally gut-wrenching but completely fictional article that never had any evidence to support it.  The NYT said Officer Sicknick's skull was savagely bashed in with a fire extinguisher by a pro-Trump mob until he died.
Just like the now-discredited Russian bounty story also unveiled by that same paper, cable outlets and other media platforms repeated this lie over and over in the most emotionally manipulative way possible.
The media was quite obviously making this weak-kneed "insurrection" as violent as possible to paint a picture in order to mark certain Americans as domestic terrorists.
The autopsy found no blunt trauma to the head. Sicknick's own family kept urging the press to stop spreading this story because he called them the night of January 6 and told them he was fine — obviously inconsistent with the media's claim that he died by having his skull bashed in — and his own mother kept saying that she believed he died of a stroke. -Glenn Greenwald
Besides Sicknick, the only ones killed were four pro-Trump supporters: two who died of heart attacks, one who died from an amphetamine overdose, and the other, Ashli Babbitt, who was shot point-blank in the neck by Capitol Police despite being unarmed). This police shooting is obviously being ignored because she is on the wrong side of the left vs. right paradigm lie. 
New DC Medical Examiner Report:

Of the 5 people whose deaths are connected to the Capitol riot, 4 were pro-Trump supporters:

* 2 of heart attack
* 1 of amphetamine poisoning
* 1 from homicide (Ashli Babbitt)
* Still do not know the "cause and manner of death" for Off. Sicknick. https://t.co/LFNVxFdMRK

— Glenn Greenwald (@ggreenwald) April 7, 2021
The mainstream media's lies all came crashing down on their heads on Monday as the "official narrative" they crafted was demolished. The District of Columbia's chief medical examiner on Monday morning issued his official ruling in the Sicknick case, and it was so definitive that The Washington Post —(one of the media outlets that had pushed the multiple falsehoods ) did not even bother to try to mask or mitigate the stark conclusion it revealed:
Capitol Police officer Brian Sicknick, who engaged rioters, suffered two strokes and died of natural causes, officials say
But these employees of corporate media outlets have been taught the exact opposite model: that their primary obligation is to please and flatter the partisan agenda and political sensibilities of their audience even if it means lying or recklessly spreading unproven theories to do it. That is their profit model. And they have trained their audiences to want and expect this and that is why they never feel compelled to engage in any self-critique or accountability when they get caught doing this: their audiences want to be lied to — they are grateful for it — and would prefer that they not admit they did it so that their partisan interests will not be undermined. -Glenn Greenwald