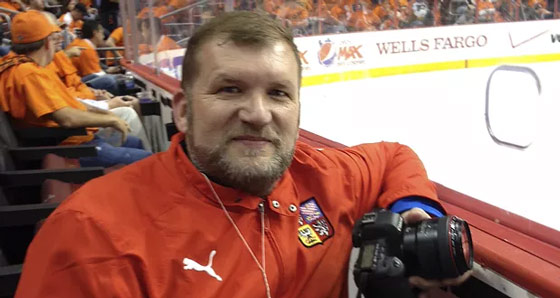 As rumors of Hillary Clinton's health problems began to swirl in alternative media during the opening months of 2016, the legacy media fought back hard. Every claim suggesting that Clinton may be having serious health problems resulting from a fall several years prior were immediately dismissed by the talking heads on left-leaning news channels as nothing short of right-wing, deplorable conspiracy theory. It was as if the media was actively conspiring with the Clinton campaign to cover up Hillary's health issues.
And then it happened.
On September 11th 2016, as Hillary Clinton left a memorial and stood curbside waiting for her car, a man paying tribute at the 9/11 museum happened to have his camera on as Hillary walked past. Excited that he was in the presence of the woman who could be the next President, he kept recording.
The video he captured may have changed the very course of U.S. history:
Now, Zdenek Gazda, a legal immigrant from the Czech Republic, is being celebrated as a hero for recording and quickly tweeting the video for the rest of the world to see.
His actions all but confirmed what reporters and investigators in alternative media had been screaming from the roof tops for months – that Hillary Clinton was having serious health problems and was not fit to serve as President of the United States.
Gazda, a firefighter from the Czech Republic who now lives in New Jersey, told Cosmopolitan.com he filmed the moment by accident. He goes to the museum every year on 9/11 to pay tribute to those who died that day and started taking pictures when he noticed Hillary passing by. He began filming as it was the first time he'd ever seen her in person. Seconds later, her security team had to help her get into her van.

He did not hesitate to post what he'd shot. "I put it on Twitter immediately," Zdenek, who says he was always an avid Trump supporter, said. "I don't like [Hillary] because she lied. She's sick … I was scared too because so many people like her. But I closed the door on her for the White House. A lot of people say with a 20-second video, I changed the history of the United States."

He believes that to be true. Though the tweet took off on its own, Zdenek encouraged any media outlet that asked to use the footage in their coverage. He also said he "tried" to make money off it and was successful – though he wouldn't specify how much he's made, he said he'd sold the video to Storyful. He has never regretted his decision.

Source: Cosmopolitan via Yahoo
His pivotal role in capturing the video and having the foresight to understand its importance cannot be overstated. After it was released, Trump's campaign absolutely steam rolled over Hillary as they were not only able to confirm her health issues, but that the mainstream media had been covering for her for months.
REVEALED: THE MAN WHO PLAYED A PIVOTAL ROLE IN CHANGING THE ELECTION @zgazda66 SHOT THE INFAMOUS 9-11 HILLARY FALL ? #HillarysHealth pic.twitter.com/Dk9Pw14p1n

— DeploraBall℠ (@deploraball) January 21, 2017
What are the odds that after all the talk about immigration from the Clinton campaign, it would be an immigrant who tanked Hillary's chances at the Presidency?
Hollywood couldn't have written a better script.