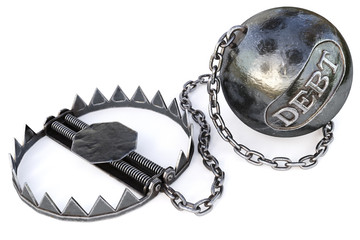 The signals from financial markets today indicate that we could be on the verge of a new credit crisis.  The looming debt trap threat has ensnared millions of Americans, and they firmly believe that their government (which is $22 trillion in debt) will somehow protect them and save them from themselves.
There will come a time when no one will loan the government any more money. When that time comes, if you are dependent on the government for either welfare or a salary, you'll be in a world of panic. But it won't be much easier for those who are dependent on themselves either.  At that point in time, the government will attempt to steal more money from producers to try to make up for their horrible spending habits.  The economy will plunge into ruins taking society and the American standard of living with it.
https://www.shtfplan.com/headline-news/peter-schiff-the-american-standard-of-living-its-going-to-collapse_12122018
Debt has become a looming crisis, and in America, it's a trap.  People borrow more money than they will ever be able to repay and more and more creditors are willing to loan high-risk borrowers more money. According to Seeking Alpha, the debt based system we've been forced to live under is a ticking time bomb, and no one can see the clock.
Our best-case outcome of controlled price inflation is essentially that forecast by the Congressional Budget Office. Working from the CBO's own figures, by 2023 we can estimate accumulated debt including intragovernmental holdings will be $26.3 trillion, including our estimated interest cost totaling $1.3 trillion.

The CBO assumes GDP will increase by 48% by 2028 to $29.803 trillion, whereas our cyclical case is for debt to rise to $51.4 trillion. While both these figures should be taken as purely indicative, clearly, US government debt will increase at a faster pace than the growth in GDP and will strangle economic activity.

If the purchasing power of the dollar declines more rapidly than implied by the CBO's assumed 2% price inflation target, interest payable on Federal debt will in turn be sharply higher than expected, compounding the debt problem. The federal government will face a potentially terminal debt trap from which there can be no escape.
As Americans struggle with record levels of debt in an economy they are all too often told is just fine and doing great, they face increased prices from trade war taxes and the costs of regulations.  It is a trap that is difficult to get out of.  Infamous financial guru Dave Ramsey has said: "you can wander into debt. You cannot wander out."
You can wander into debt, you can't wander out. You have to get really mad, really intense, and really focused to get out of debt.

— Dave Ramsey (@DaveRamsey) March 10, 2017
Unfortunately, not one politician in Washington is focused on the national debt, unless it's on how to raise it even more.  The best way to prepare for this horrific apocalyptic economy is to store some essentials, such as food and water, and have things that can be bartered. Also, consider getting yourself out of debt. Do what you can to pay off or pay down what you owe and stop borrowing money. A financial crisis is looming and it will impact those who are not prepared more than those who are.
"If we have learned one thing studying the history of disasters, it is this: those who are prepared have a better chance at survival than those who are not." -Tess Pennigton, The Prepper's Blueprint