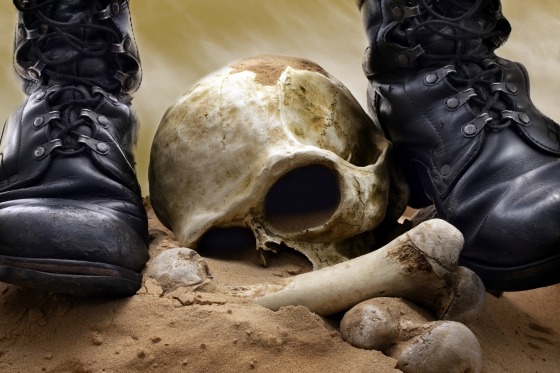 According to one person who studies the "global systems' death spiral," if the elitists and ruling class don't kill us off, something else might. Simon Beard is part of a team of researchers trying to figure out if, how, and when climate change could cause the human species to go extinct.
A potential annihilation of 7.7 billion humans and all the unborn people who come after them could be in the future – that is…if the ruling class decides to let us live that long…
Who Inflicts the Most Gun Violence in America? The U.S. Government and Its Police Forces
According to a report from Vice, Beard, who does this work at the Cambridge Center for the Study of Existential Risk, described climate change as "a field with next to no data" and a lot of unsupported hypotheses. "Under what circumstances could climate change cause a collapse of global civilization?" he said. "When you start asking that question, then your already quite-limited literature gets even more scarce."
But Beard is appealing to the ruling class to make the changes necessary to prevent climate change. This seems strange considering the vast majority are already on board with the enslavement and death needed to meet the goals set out in Agenda 21 and Agenda 2020. Beard hopes to convince world leaders to actually do something about it though when they came up with the scheme to begin with as a means to control people. "That's really what we're aiming for at the moment," he said. "I think this could be genuinely transformative—firstly for the science but also by implication for the policy and the way that these things are discussed in society."
Translation: In order to prevent humanity's elimination from the earth, we need to submit to the complete enslavement of the political/ruling class.
At some point, Beard fears that the stress on our food system could become too much. A collapse in one human or natural system could cascade into the others, potentially setting off a "global systems death spiral" that accelerates and amplifies the damage beyond our ability to control it. "That forms a feedback loop," Beard said. "You basically get food security collapsing, political systems collapsing [and then] rising levels of environmental destruction. With this many people, that could be genuinely devastating for all of humanity."
In order to "save humanity," Beard proposes studying what exactly could lead to the extinction of humanity when it comes to climate. But if we go extinct, it could be long before the climate has a chance to boil us alive. Researchers and governments around the globe are looking for ways to decrease the population already and bring about complete domination of humans under the rule of a few. Perhaps that's a bit more daunting that the cyclical climate issue.