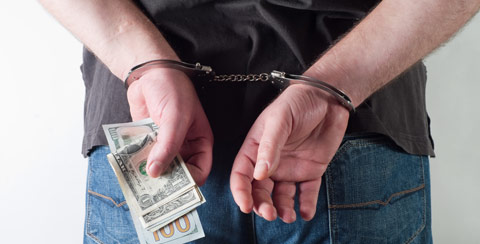 If you've ever wanted to live in a world where bankers hold all the power, not just over money but over people too, then you have a lot to look forward to.
They have planned the future in secret, and cash is not in the plan.
The future will hold plenty of new gadgets and technology to play around with, and the digital revolution will created new developments even Ray Kurzweil can hardly dream of.
But the future will hardly be free. With the going trend, cash is about to be a thing of the past, apart from underground transactions and black market purchases.
By its very nature, the digital system tracks nearly every purchase that is made, and virtually nothing is secret or off the books. The need for payment authorization, through a debit, credit or purchase card, means that accounts can be frozen, hacked or compromised and people can be cut off whether there is a good reason or not.
Withdrawing more than $5000 or $10,000 is now banned, or severely monitored, in countries around the world. Other harsh capital control rules are coming down. But even more significant is the speed with which people are voluntarily going cashless for the convenience of being on-the-grid.
As the CorbettReport.com reported last week, the trend is bigger than most realize:
But all of these stories, reported piecemeal here and there over the years, don't give the full story about how this "war on cash" is being waged on every continent and in every country by the same banksters that stand to benefit from a cashless world. Let's fix that by compiling a list of examples from around the world of how cash payments are being regulated, restricted and phased out. The list below will be updated as new stories come in.

[…]

Banksters and (bankster-controlled) governments have openly lusted after a world of completely trackable, completely bank-controlled transactions.
James Corbett rounds up actions in dozens of nations across the globe to restrict cash, or work towards ending its use.
Argentina, Australia, Belgium, Canada, China, Denmark, Ecuador, EU, France, Germany, Hong Kong, India, Ireland, Israel, Italy, Kenya, Mexico, Netherlands, Norway, Phillipines, Saudi Arabia, Spain, Sweden, Uruguay, UK
With cash in the crosshairs, Corbett interviews Kerry Lutz of FinancialSurvivalNetwork.com on the efforts to portray cash as dirty, with old notes being less frequently replaced, and unappealing to use:
In the end, bankers are attempting to force everyone into the system with the trendiness of their digital platforms.
Using cash will soon garner the same looks as people with "too many" kids in public, or unkempt "crazy" people on the streets.
Because cash is liquid, private and readily desirable as a currency alternative, the banks want it limited, and have scheduled it for destruction. And not long after that, it may well become illegal.
Will freedom, once outlawed, continue with other forms of physical currency like gold and silver? Are you willing to risk being arrested in order to continue trading freely off-the-grid and under-the-radar?
Does your prepping strategy include barter items and/or gold and silver? What other ideas would work.
Read more:
Once Cash Is Banned They Will Be Able To Force You To Buy Products: "Just Tax Their Excess Account Balance"
Secret War on Cash: "Discussions at Bilderberg Centered Around Capital Controls, Abolition of Cash"
Americans Face Impoverishing War on Cash: "More Big Banks Are Shunning Cash"
Expert Says "Banning Cash" The Only Solution to Negative Interest Market Problems