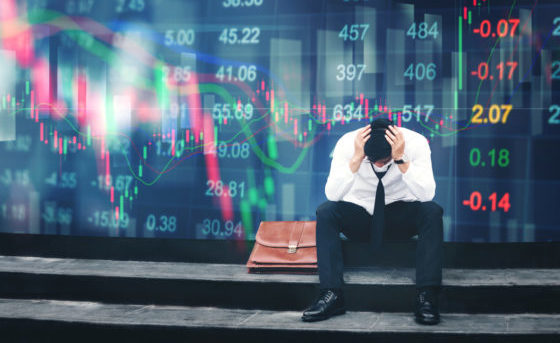 Global markets are now facing a $12 trillion dollar reckoning.  The problem is staring the financial apocalypse right in the face and has the potential to accelerate the coming stock market crash.
A recent report from the Congressional Budget Office has warned that deficits will total $11.6 trillion, or 4.4% of gross domestic product between 2020 and 2029. That's far higher than the historical average of 2.9% over the past 50 years, according to data from INTL FCStone. This reckoning will come when no one wants to buy that debt, and that time is quickly approaching.
According to Business Insider, a deficit is only as ominous as the market's inability to buy the excess debt that's issued along the way. INTL FCStone macro strategist Vincent Deluard has serious concerns about that. So far, foreign central banks, and the U.S.' central bank, The Federal Reserve. Central banks have begun selling debt though, not taking on more. The Fed has slashed Treasury holdings by $260 billion since October 2017, their foreign counterparts have sold almost $1 trillion over the past four years. Deluard says that those debts will terrifyingly be picked up by retail investors and pension funds.
https://www.shtfplan.com/headline-news/1-2-trillion-asset-manager-forget-volatility-the-real-financial-timebomb-is-public-pensions_02132018
But retail investors are running out of cash to by debt and pensions could implode at any time. "If retail investors finance budget deficits, the money will have to come from existing cash savings or equity holdings," Deluard said in a recent client note. "Reversing to the long-term average stock allocation would free about $4 trillion in retail savings to go into the Treasury market."
Deluard sums up the whole apocalyptic situation as one that has the potential to permanently crash the stock market, as any negative pressure could push the economy to the brink.  "The investors which can replace the Federal Reserve and foreign central banks as the marginal buyer of Treasuries are already fully invested," he said. "Equities will have to be sold."
Not many are willing to understand the national debt and the deficit. But those who do, are not optimistic.
https://www.shtfplan.com/headline-news/peter-schiff-the-real-national-emergency-isnt-at-the-border-its-the-national-debt_02212019
Many Americans and the government find themselves buried in debt they will likely never be able to repay.  No one knows exactly when this debt-based system will all come crashing down, but when it does, it will be like nothing in mankind's history.