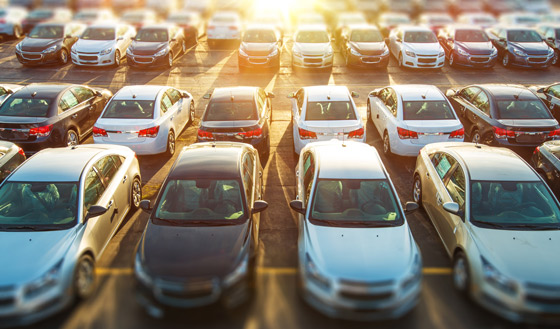 Thousands of job cuts have been announced while demand for cars is dropping and debtors are defaulting on their auto loans in record levels.  The failing automotive industry could propel the globe toward a worldwide recession in the coming months.
In addition to the trade war killing demand for automobiles, thousands of job cuts have been announced as manufacturers try to stay in business. According to Business Insider, Honda, Nissan, Ford, and General Motors have announced thousands of job cuts in Europe. Jaguar Land Rover has also begun cutting jobs.
https://www.shtfplan.com/conspiracy-fact-and-theory/trillion-dollar-auto-loan-bubble-also-ready-to-burst-end-result-is-going-to-be-catastrophic_09072016
The entire world is "cooling off" its love affair with cars, and that is a factor pushing the global economy toward a recession, according to two economists at HSBC. "Car demand is in decline due to a greater focus on environmental policies, increased urbanization and investment in alternatives — be it on- demand cars or public transport," according to the HSBC economists Janet Henry and James Pomeroy.
"Parts of the world are already in industrial recession," Henry and Pomeroy said in a note to clients seen by Business Insider. "Much of the weakness in the global economy has been concentrated in the manufacturing sector: the global manufacturing PMI has dropped by 3.6 points since the beginning of 2018 while the services PMI has edged down by 1.6 points," the note said.
According to recent numbers from the Federal Reserve Bank of New York, a record 7 million Americans are at least three months behind on their car loan payments. That's about a million more than there were in 2009, the end of the last recession. By the summer of 2018, Americans owed $1.26 trillion on their cars, an increase of 75 percent from the end of 2009.  High-interest subprime loans aimed at purchasers with low income and poor credit scores made up as much as 26 percent of all auto loans issued in 2016, up from 14 percent in 2009.  These loans may seem "predatory" in nature, but ultimately, the consumer should take personal responsibility and avoid buying a car they cannot afford. Many Americans assume an affordable car is one that they can make the payment on if their current financial situation doesn't change.
Car debt can also put a huge financial burden on those with other types of debt too. All forms of debt have shot up recently too, including credit card debt and student loan debt putting many Americans in a dire situation once a financial crisis or recession finally hits home.
When more households fail to make payments on their vehicle, the implication is that they're not financially healthy enough to maintain a grip on even their most important depreciating asset. But we are constantly being told not to worry, the economy is in great shape, the government has it all under control, and people are doing just fine. All logical indicators point to otherwise.