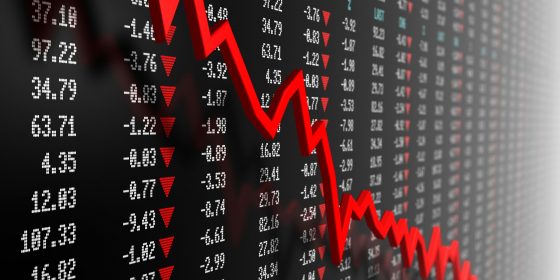 The Dow fell 430 points or 1.7% on fears about a political crisis in Italy and renewed trade tensions between the United States and China. The S&P 500 and the Nasdaq slipped 1.4% and 0.9% apiece.
The White House also announced Tuesday that it would impose 25% tariffs on $50 billion worth of goods from China and place new limits on Chinese investments in the United States. This is a drastic turn for the Trump administration since Treasury Secretary Steven Mnuchin said a trade war with China was "on hold" less than 10 days ago. "We're putting the trade war on hold, right now, we have agreed to put the tariffs on hold while we try to execute the framework," Mnuchin told Fox News. He also said that the US had won several commitments from Chinese officials that should cut America's trade deficit with China, which ran at more than $300m (£225m) in 2017.
"To meet the growing consumption needs of the Chinese people and the need for high-quality economic development, China will significantly increase purchases of United States goods and services," the statement said. China's state-run news agency, Xinhua, said the statement was essentially a vow "not to launch a trade war against each other." But all that appears to have changed.
According to CNN Money, the VIX, Wall Street's fear gauge, has spiked 15% to its highest level since May 4. CNN also declared that investors rushed to the "safety in bonds." The yield on the 10-year US Treasury dropped 1% to 2.81%. Yields move in the opposite direction of price.
The Independent reporting on the trade war's progression said that Washington will release a list of some $50 billion worth of Chinese goods that will be subject to a 25 % tariff effective June 15. According to a statement made by the White House, the United States will also continue to pursue litigation against China at the World Trade Organisation (WTO).