This report was originally published by Tyler Durden at Zero Hedge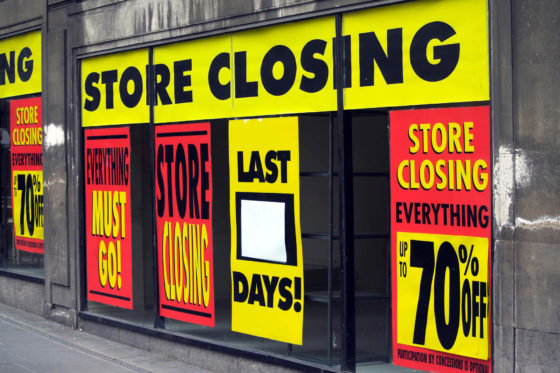 Retail real estate carnage is going to continue this year with no signs of slowing up, as Bloomberg reported this morning that over 77 million square feet of retail real estate has closed this year and that 2018 will easily pass 2017's record of 105 million square feet closed. The latest example was the fall of the once massive Toys 'R' Us name:
The fall of the Toys "R" Us chain, with more than 700 U.S. stores, shows how much retail real estate has changed in just the last decade. When KKR & Co., Bain Capital, and Vornado Realty Trust took over the company in 2005, the buyers justified the $7.5 billion price, in part, because of the supposedly valuable properties that came with the deal.
If there was ever to be any silver lining to the complete carnage in the retail real estate space, it was the argument that has been perpetuated over the last decade or so: despite retail stores closing, the real estate would eventually be worth something.
This argument was made by real estate investment trusts as well as activist investors and analysts who tried to put a positive spin on the death of brick and mortar retail. Now, with more space freeing up, the bid under former retail property is at ask of falling off as supply is starting to get far ahead of demand:
Real estate can put a floor under the value of a retailer and make it easier for the company to borrow. Maybe a particular store concept doesn't work out as consumers' tastes change, but in that case, investors can always sell the land and buildings to someone with a better plan. Long-term leases can be similarly valuable. But what if the problem isn't that a particular store is out of fashion, but that consumers are just shopping less at brick-and-mortar retailers in general? As more storefronts empty, the valuation floor will look wobblier.
This pace of closings puts 2018 on pace to pass 2017's record of 105 million square feet of retail space closed:
At last count, U.S. store closures announced this year reached a staggering 77 million square feet, according to data on national and regional chains compiled by CoStar Group Inc. That means retailers are well on their way to surpassing the record 105 million square feet announced for closure in all of 2017.
It doesn't look like the pace of these closings is going to slow anytime soon, either:
And with shifts to internet shopping and retailer debt woes continuing, there's no indication the shakeout will end anytime soon. "A huge amount of retail real estate in the U.S. is going to meet its demise," says James Corl, managing director and head of real estate at private equity firm Siguler Guff & Co. Property owners will "try to re-let it as a gun range or a church—or it's going to go back to being a cornfield."
So goes one set of stores, as go others. Despite the fact that the U.S. still has some of the most square footage of shopping space per person, there isn't enough being spent at these locations to make them worth it:
Even though retailers have been retreating for years, the country still has about 24 square feet of shopping space per person, many times more than any other developed nation, according to research firm Green Street Advisors. Consumers aren't spending enough offline to support such a generous amount. Vacancies are headaches for landlords, of course, but they also have a mushrooming effect. People may steer clear of a mall that has lost an anchor tenant or has an abundance of "for lease" signs in smaller spaces. Deserted big-box stores, their facades naked and parking lots barren, can spread a sense of blight for blocks around. Who wants to open a business next to a place that's gone out of business?
The article finishes by pointing out that companies like Amazon and Whole Foods have still seen success using a brick-and-mortar retail concept. It's possible that the space is simply just downsizing and becoming more efficient instead of disappearing entirely. Regardless, there seems to be a long runway to go in terms of retail real estate freeing up over the next couple of years. The trend of internet versus department stores also remains anything but encouraging.
And the outlook, with overlevered companies and lack of a serious bid under property prices, continues to look grim. Retailers are not going to be able to refi or recapitalize in ways necessary to try and grab onto lifelines. As the sector continues to collapse it's going to be harder and harder to try and engineer turnarounds – this could lead to a self fulfilling prophecy of accelerating turmoil and collapse for the industry:
But not every deserted retail property can be turned into a gym, theater, or boutique outlet of a tech company. That reality will weigh on any investor thinking about scooping up a struggling chain with real estate assets today—especially buyers in private equity, who borrow heavily to finance their deals. "Retailers cannot support large debt loads," says Perry Mandarino, head of restructuring at B. Riley FBR, an investment bank that's worked on retail liquidations. "Add to that the possibility of a decrease in the value of other collateral, such as real estate, and the successful execution of a retail-leveraged buyout may be almost impossible."
Almost a year ago to the day, we reported on retail closing setting up to hit a scorching pace in 2017. The narrative for 2018 stays the same, only worse. In early 2017 we pointed out the astonishing fact that "Barely a quarter into 2017, year-to-date retail store closings had already surpassed those of 2008."
We asked in early 2017 if Amazon was assured of becoming the world's first trillion-dollar stock, perhaps hitting the milestone even before Apple? Here is how the two names have fared since then:
The race is on.
Others have given up waiting for a recovery that seems always out of reach and are settling into what appears to be the new normal – but regardless, 2018 is setting up to, once again, break new ground in misery for retail real estate.