This article was originally published by Michael Snyder at The End of the American Dream. Michael is the founder of The Economic Collapse Blog and author of The Beginning of the End.
A 1,000 Mile Stretch Of The Pacific Ocean Has Heated Up Several Degrees And Scientists Don't Know Why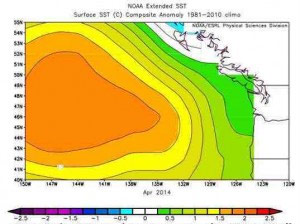 According to two University of Washington scientific research papers that were recently released, a 1,000 mile stretch of the Pacific Ocean has warmed up by several degrees, and nobody seems to know why this is happening.  This giant "blob" of warm water was first observed in late 2013, and it is playing havoc with our climate.  And since this giant "blob" first showed up, fish and other sea creatures have been dying in absolutely massive numbers.  So could there be a connection?  And what is going to happen if the Pacific Ocean continues to warm up?  Could we potentially be facing the greatest holocaust of sea life in the Pacific that anyone has ever observed?  If so, what would that mean for the food chain and for our food supply?
For a large portion of the Pacific Ocean to suddenly start significantly heating up without any known explanation is a really big deal.  The following information about this new research comes from the University of Washington…
"In the fall of 2013 and early 2014 we started to notice a big, almost circular mass of water that just didn't cool off as much as it usually did, so by spring of 2014 it was warmer than we had ever seen it for that time of year," said Nick Bond, a climate scientist at the UW-based Joint Institute for the Study of the Atmosphere and Ocean, a joint research center of the UW and the U.S. National Oceanic and Atmospheric Administration.

Bond coined the term "the blob" last June in his monthly newsletter as Washington's state climatologist. He said the huge patch of water – 1,000 miles in each direction and 300 feet deep – had contributed to Washington's mild 2014 winter and might signal a warmer summer.
It would be one thing if scientists knew why this was happening and had an explanation for it.
But they don't.
In fact, according to the Washington Post, they are calling this something that is "totally new"…
Scientists have been astonished at the extent and especially the long-lasting nature of the warmth, with one NOAA researcher saying, "when you see something like this that's totally new you have opportunities to learn things you were never expecting."
The following map comes from the NOAA, and it shows what this giant "blob" looks like…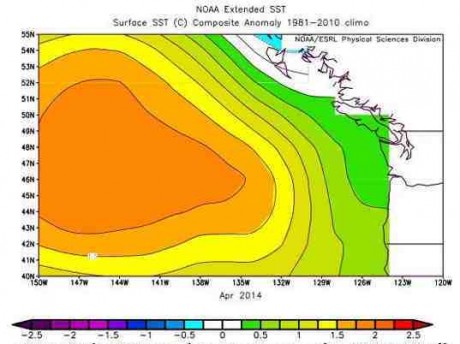 According to CBS News, ocean temperatures inside this blob have risen anywhere from two to seven degrees Fahrenheit above normal…
This warm blob, which is about 2 to 7 degrees Fahrenheit (1 to 4 degrees Celsius) warmer than the usual temperature for this region, means the winter air that crosses over the Pacific Ocean wasn't cooled as much as it normally would be. That, in turn, spelled warmer, dryer conditions for the West Coast.
Meanwhile, while this has been going on, scientists have also been noticing that sea creatures in the Pacific have been dying in record numbers.
In fact, last summer I wrote an article entitled "Why are massive numbers of sea creatures dying along the west coast right now?"
Since then, things have continued to get even worse.
For instance, it was recently reported that the number of sea lions washing up on Southern California beaches is at an all-time record high…
A record 2,250 sea lions, mostly pups, have washed up starving and stranded on Southern California beaches so far this year, a worsening phenomenon blamed on warming seas in the region that have disrupted the marine mammals' food supply.

The latest tally, reported on Monday by the National Marine Fisheries Service, is 20 times the level of strandings averaged for the same three-month period over the past decade and twice the number documented in 2013, the previous worst winter season recorded for Southern California sea lions.
And of course fish are being deeply affected as well.  Sardines have declined to their lowest level in six decades, and National Geographic says that a whole host of tiny fish species at the bottom of the food chain are dying off rapidly…
Since the 1950s, researchers every year have dropped nets 1,000 feet (300 meters) down to catalog marine life many miles off California. Most track commercially important species caught by the fishing industry. But J. Anthony Koslow tallies fish often credited with keeping marine systems functioning soundly—tiny midwater bristlemouths, the region's most abundant marine species, as well as viperfish, hatchetfish, razor-mouthed dragonfish, and even minnow-like lampfish.

All are significant parts of the seafood buffet that supports life in the eastern Pacific, and all are declining dramaticallywith the vertical rise of low-oxygen water.

"If it was a 10 percent change, it wouldn't have been worth noting, but they've declined by 63 percent," says Koslow, of the Scripps Institution of Oceanography.
So if the bottom of the food chain is experiencing a catastrophic collapse, what is that going to mean for the rest of the food chain in the Pacific Ocean?
In turn, what is that going to mean for the seafood industry and for the price of seafood in our grocery stores?
Some really strange things are happening on the other side of the Pacific right now as well.
Over in Japan, the media is buzzing about the recent mass beaching of 150 melon-headed whales.  A similar incident was observed just six days before the great earthquake and tsunami of 2011.  The following comes from the Japan Times…
The mass beaching of over 150 melon-headed whales on Japan's shores has fueled fears of a repeat of a seemingly unrelated event in the country — the devastating 2011 earthquake and tsunami that killed over 18,000 people.

Despite a lack of scientific evidence linking the two events, a flurry of online commentators have pointed to the appearance of around 50 melon-headed whales — a species that is a member of the dolphin family — on Japan's beaches six days before the monster quake, which unleashed towering tsunami and triggered a nuclear disaster.
Very strange stuff.
For our entire lives, we have been able to take for granted that our oceans would always be stable and healthy.
But now it appears that things may be changing.
So what do you think about all of this?
Please feel free to share your thoughts by posting a comment below…
---
Michael T. Snyder is a graduate of the University of Florida law school and he worked as an attorney in the heart of Washington D.C. for a number of years.
Today, Michael is best known for his work as the publisher of The Economic Collapse Blog and The American Dream.
If you want to know what things in America are going to look like in a few years read his new book The Beginning of the End.
---
Also from Michael Snyder:
America Is About To Change In a Major Way: "Everything That Can Be Shaken Will Be Shaken"
If Martial Law Comes to America "Dissidents and Subversives Would Be Rounded Up"
Russia Has Constructed Massive Underground Shelters In Anticipation Of Nuclear War