This article was originally published by Daisy Luther at The Organic Prepper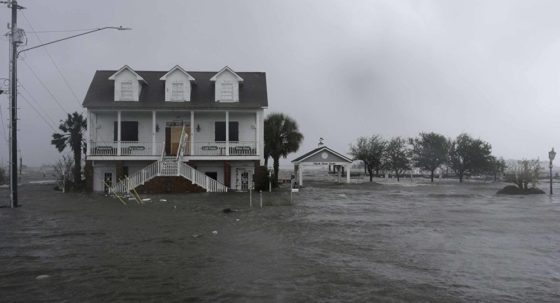 When Hurricane Florence slowed to a Category 1, people breathed a sigh of relief in hopes that the damage would not be as great as had been originally feared. People scoffed, "It's ONLY a Category 1. We've seen worse before."
But, as I've often written, there isn't any such thing as "only" when it comes to hurricanes. Florence stalled just off the coast, picking up more water from the ocean for days and that water had to go somewhere. And it did. It went all over the Carolinas, drenching already saturated areas with nearly 10 trillion gallons of rain. Some areas saw as much as 36 inches of rain and the flooding is nothing less than catastrophic.
The astronomical damage from Hurricane Florence
So far, at least 36 people have died in relation to Florence, and tens of thousands of livestock animals: chickens, turkeys, and pigs.
The devastating floods in agricultural areas not only killed the livestock but it also swept their manure away in the waters, contaminating ponds and rivers with the fecal matter. Sewer systems in the area have also released raw sewage into the flood waters.
The historic city of Wilmington has become an island temporarily, as floodwaters cut off all roads in. 455 people had to be rescued from the flooding in the small town of New Bern. Nearly a million homes were without power for days and that number is now down to 160,000 homes after heroic restoration efforts.
Two major highways, I-95 and I-40 look like rivers instead of roads and are completely impassible.
The flood risk isn't over yet, even though the rain has stopped. As rivers fill up, the water will run toward the ocean and those hard hit cities will see rivers cresting to all-new highs. The floods could continue for days.
One of the costliest hurricanes in history
Moody's has said that Hurricane Florence will go down in the books as one of the 10 costliest hurricanes in history.
Property damage and disruption from Hurricane Florence is expected to total at least $17 billion to $22 billion, but the estimate could end up being conservative, as the Carolinas continue to face historic rainfalls and flooding, according to Moody's Analytics.

"We were close to $10 [billion] to $15 billion on Friday. The flooding is more extensive than we had anticipated, and the storm was slow moving. It hung over the Carolinas a lot more than was expected," said Mark Zandi, chief economist at Moody's Analytics. He said the number could be adjusted based on further flooding, as some rivers are not expected to crest until later in the week. (source)
This has been a disaster of epic proportions.
What preppers can learn from Hurricane Florence
As with all disasters, there are lessons that can be learned by preppers who are paying attention.
Flooding is a long-term event when you're downstream. When rivers and streams are overfilled, that water is going to go somewhere. When they all converge someplace downstream, another flood event will occur. For example, the Cape Fear River just west of Wilmington is where numerous tributaries meet, and all of those tributaries will be bring more foul, feces-laden water through the isolated city. And this is just one example – any coastal city that has rivers running through will face more flooding in the days ahead.
No matter how well-prepped you are, if your home floods, your preps may be destroyed. This event shows just how easily people can be left with nothing, regardless of the work they put into their homes or the supplies they stash away. While many of these folks live in floodplains and in coastal regions, floods can happen anywhere it rains.
"There's a common misperception that if you don't live near the coast and can't see the waves crashing on the shore, you might not be at risk," said Forbes Tompkins, a Pew Charitable Trusts expert on flood-prepared infrastructure. "But where it rains, it can flood." (source)
There are nearly always side disasters. It's not enough to get flooded by a hurricane. There are always other things for victims to deal with. From the state of emergency declared at a local nuclear plant to the agricultural contaminants in the water, the hits just keep on coming.
When you're in a place that is cut off, supplies run out quickly.
I'm using Wilmington as an example again. Since the city cannot be reached by truck, the supplies they have are running out fast. Although power has been restored, the chain of transport has not.  As people lined up in front of the Harris Teeter grocery store in the city, a security guard let those in line know what they were out of:
'We have no ice, no dry ice. Limited batteries: no C's or D's. No propane, no charcoal, we're limited on perishables and no cigarettes! Any questions on that part?' she says to the crowd.

'Second thing is, they are taking all cards and cash. Third thing is, they have on the hot bar, so there might be something up there.

'If you get out of line and you're the only person in that line, you get out, you get to the back. Ain't no more getting back in your spot. That's not gonna happen. OK? So I advise y'all to have another person with you if you need to walk away,' she says.

'No Western Union, no phone cards! They take internet and we don't got it!'  (source)
So right there, you've got a checklist of some things to stock: ice, C and D batteries, cash, propane, charcoal, and cigarettes. (Assuming you need those things. I personally prefer to buy items that use AA batteries whenever possible because they're cheaper to run. And we're a family of non-smokers.)
Some supplies are being brought in by helicopter this week.
There are always looters. A primary reason many people refuse to leave their homes when told to evacuate is concerns about looters. And they're right to be concerned. Numerous looters emptied out a Family Dollar store in Wilmington and a TV reporter confronted them on camera. 10 people were arrested for looting a Dollar General in the same city. In badly flooded New Bern, a grocery store was looted but not for food – for cigarettes.
Looters are the dregs of society. It's entirely different when it is a long-term SHTF situation as Selco described in this article, but the people who go out to steal and vandalize just because they can and they think that the disaster means they won't be caught? Scum. These people weren't grabbing necessities like food or water or baby formula.
Places without a history of flooding can still flood, and most people aren't insured for that.
Some people are going to find to their dismay that their homeowner's insurance will not cover the flood damage to their homes. Flood insurance is separate from ordinary homeowner's insurance. Only about 1% of inland homes damaged by the Florence floods have insurance for this disaster. The national flood insurance program through FEMA costs ballpark $700 a year and up, depending on how likely your home is to flood. It tops off at $250K.
Just 134,306 properties in North Carolina and 204,342 in South Carolina are enrolled in the National Flood Insurance Program, according to FEMA. The bulk of those are clustered in coastal communities.

For those without flood insurance, all they can hope for is federal funding, usually about $30,000, said Ray Lehmann, director of finance, insurance and trade policy at the R Street Institute.

"It won't be enough to rebuild an entire home," he said. (source)
As well, homes that can be salvaged are likely to be affected with black mold, a serious health hazard that is tough to get rid of.
Evacuees may be gone longer than expected.
Lots of people wisely fled coastal regions when advised to do so. They evacuated inland more than a week ago and can't yet go home because flood waters are still rising. More than a thousand roads are still closed and those who evacuated have been warned to stay away.
North Carolina Gov. Roy Cooper said:
"I know it was hard to leave home, and it is even harder to wait and wonder whether you even have a home to go back to," he said. "I know for many people this feels like a nightmare that just won't end," he said, according to the AP.

"Right now, we must keep our attention on the safety of those still in danger and getting food, water, medicine and supplies into areas that are stranded," Cooper said. (source)
Not only are people dealing with the anxiety of wondering whether their homes are habitable, but they're also racking up the costs of being away from home for potentially weeks at a time. If you have family or friends willing to take in you and your pets, it's not so bad. But for those who don't? That's a whole lot of money. And keep in mind, most folks who left aren't working while they're gone so they are also dealing with a loss of income. Emergency fund, emergency fund, emergency fund. (Learn how to build one here.)
People will be dealing with this for years.
Catastrophes like this aren't just "over" one day. When the flood waters recede and people finally get to go home, they will be dealing with the aftermath for years. Financially, emotionally, and structurally, there are huge recoveries that will need to be made and that will take a long time.
Resources
Flooding is expected to worsen as Florence passes through the Carolinas
'Nastiest I've Ever Seen It': Residents Along Cape Fear River Brace for Record Floods
Hurricane Florence damage estimated at $17 billion to $22 billion and could go higher — Moody's Analytics
Florence Engulfs Hog Farms And Chicken Houses, Thrashing North Carolina Agriculture
Only about 1% of homes in North Carolina's inland counties have flood insurance
Tough security guard at a North Carolina grocery store keeps residents in check as they line up for food and water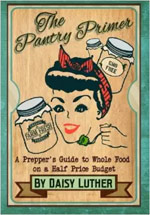 Please feel free to share any information from this article in part or in full, giving credit to the author and including a link to The Organic Prepper and the following bio.
Daisy is a coffee-swigging, gun-toting, homeschooling blogger who writes about current events, preparedness, frugality, and the pursuit of liberty on her websites, The Organic Prepper and DaisyLuther.com She is the author of 4 books and the co-founder of Preppers University, where she teaches intensive preparedness courses in a live online classroom setting. You can follow her on Facebook, Pinterest, and Twitter,.