This report was originally published by Tyler Durden at Zero Hedge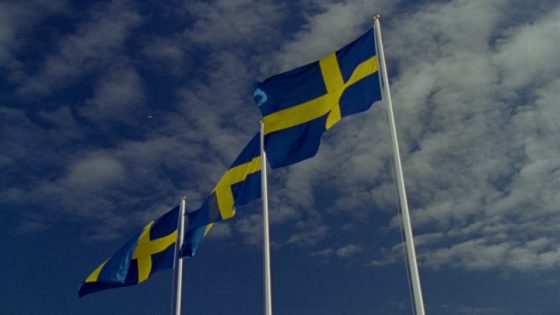 Many Swedes were horrified in early 2017 when U.S. President Donald Trump linked immigration to rising crime in Sweden, but an increasing number now agree with him.
Amid soaring crime rates, gang violence, complaints about education, and pregnant mothers even being turned away from maternity wards due to a lack of capacity, resentment in Sweden has built over the influx of more than 600,000 immigrants over the past five years.
And tonight is one of the worst nights for violence in recent history as police report multiple gangs of masked youths rampaging across three major Swedish cities, setting cars on fire in what seems like a coordinated action.
Multiple arson attacks on vehicles in #Gothenburg tonight

– An estimated 15 cars alleged to have been torched
– Youths with molotov cocktails are reported to have set fire to the vehicles
– Other arson attacks reported in Trollhättan
– Ongoing#Sweden #Göteborg #svpol #breaking pic.twitter.com/ygKsdaW17N

— Intelligence Fusion (@IntellFusion) August 13, 2018
As The Daily Mail reports, police said they were dealing with multiple fires as dramatic footage showed youths targeting vehicles in a shopping center and hospital car park at Frölunda Torg, south-west of Gothenburg.
Sinnesjukt vilka pack #frölunda #hjällbo #göteborg pic.twitter.com/cseqaRYR6H

— Johan Jansson (@JJohanJJansson) August 13, 2018
Videon som visar Sveriges förfall med bilbränderna på Frölunda torg i Göteborg togs ner på Facebook efter att den på en timme fått över 150 000 visningar! ?

RETWEETA SÅ ATT ALLA FÅR SE VAD SOM PÅGÅR I SVERIGE! ???#AfS2018 #svpol #val2018 #FrölundaTorg pic.twitter.com/7jtNPVC8FH

— Alternativ för Sverige (@AfS_riks) August 13, 2018
There were also reports of young people setting cars on fire in Hjällbo in the north of Gothenburg and further reports of fires in Trollhättan, although police were last night unsure whether the various blazes were related.
BREAKING: Serious situation in Sweden. Youths torched around 14 cars near a shopping centre in Gothenburg pic.twitter.com/Ia9vbMnNV0

— Voice of Europe ? (@V_of_Europe) August 13, 2018
Cars were also reported on fire in Malmo, at the southern tip of the country, and in Helsingborg, further south than Gothenburg.
Photos from Gothenburg in Sweden right now.

It's a war zone. pic.twitter.com/UTl9m3JhXV

— PeterSweden (@PeterSweden7) August 13, 2018
Police report that the situation is under control and they remain on the premises to keep order.
Frölunda: A group of about 6-8 masked youth fires and throws stones. 31 cars have burned and in addition to these 35 cars are injured. Nobody is arrested.

Nordost: A group of about 8-10 young people throws stones and fires. 15 cars have burned. Nobody is arrested.

Trollhättan: A larger group of about 30-40 young people throws stones and fires. Six cars have burned and another few cars must be damaged. Here roads have been blocked by youngsters and they have even thrown stones against the police and their vehicles. At the moment, identification of young people is ongoing.

When most fires started within a short period of time, it can not be excluded that there is a connection between the fires, the case will be investigated. Polish patrons will remain in the affected areas as long as it is considered necessary.
It is no surprise then, as we noted previously,  judging by the latest polls, the rise of extreme populist groups in Sweden is accelerating fast.
As Reuters reports, dozens of people have been killed in the past two years in attacks in the capital Stockholm and other big cities by gangs that are mostly from run-down suburbs dominated by immigrants.
With public calls growing for tougher policies on crime and immigration, support has risen for the ironically named Sweden Democrats, a party with neo-Nazi roots that wants to freeze immigration and to hold a referendum on Sweden's membership of the European Union.
Their worried mainstream rivals have started moving to the right on crime and immigration to try to counter the Sweden Democrats' threat in the Sept. 9 election. But so far, they are playing into the hands of the far-right.
"Right now they (mainstream parties) are competing over who can set out the most restrictive policies," said Deputy Prime Minister Isabella Lovin, whose Green Party is part of a minority government led by the Social Democratic Party.

"It clearly benefits the Sweden Democrats."
Opinion polls put the Sweden Democrats on about 20 percent support, up from the 13 percent of votes they secured in the 2014 election and the 5.7 percent which saw them enter parliament for the first time in 2010.
The Sweden Democrats' rise on the back of anti-immigration sentiment mirrors gains for right-wing, populist and anti-establishment parties in other European countries such as Italy, France, Germany, Poland, Hungary, Slovenia and Austria.
The Sweden Democrats still trail the Social Democratic Party but has overtaken the main opposition Moderates in many polls. All mainstream parties have ruled out working with them.
But they could emerge from the election as kingmakers, and a strong election showing could force the next government to take their views into consideration when shaping policy.
Their policies include a total freeze on asylum seekers and accepting refugees only from Sweden's neighbors in the future. They also want tougher penalties for crime and more powers for police, and say tax cuts and higher spending on welfare could be funded by cutting the immigration budget.
Jimmie Akesson, the leader of the Sweden Democratic party, has described the situation as "pretty fantastic".
"We are dominating the debate even though no one will talk to us," he told party members.
The Sweden Democrats have succeeded in linking the two in the minds of many voters, even though official statistics show no correlation between overall levels of crime and immigration. However, while the government denies it has lost control but Prime Minister Stefan Lofven has not ruled out sending the military into problem areas.
"Sweden is going down a more right-wing path," said Nick Aylott, a political scientist at Sodertorn University said. "It is almost impossible to avoid according some sort of influence to a party with around 20 percent of the vote."
Trump was right after all.