This report was originally published by Tyler Durden at Zero Hedge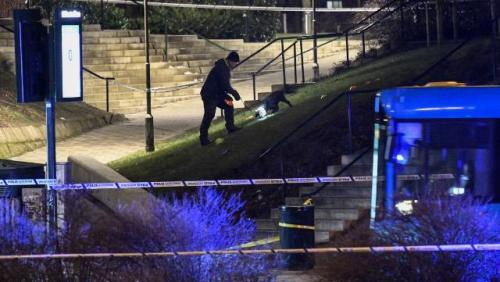 Rosengård district of Malmö. Photo: Johan Nilsson/TT
As we reported last week, Sweden may or may not be preparing for civil conflict – as Prime Minister Stefan Lofven said that the government would do whatever it takes – including deploying the military – to end the wave of gang violence coming primarily from young migrants in the country's "no-go" zones.
And on January 3rd a 22-year-old man was shot in the Fosie district of Malmö, the day after an 18-year-old woman was taken to the hospital with gunshot wounds ten minutes away in Rosengård.
In Malmö, where a fifth of the 340,000 inhabitants are under 18, children as young as 14 roam the streets with Kalashnikov assault rifles and bulletproof vests. The average age of gang members is 22, the vast majority of them hailing from migrant families. –thetimes.co.uk
The increase in crime has been so overwhelming that Swedish authorities admit they are unable to investigate rape cases right now because of the enormous backlog of gang crime under investigation. "We are forced to choose between two evils," said police.
Prime Minister Lofven's strong language also follows an attack on the Rosengård police station last Wednesday after an explosive device was lobbed at the electric-fenced building – the latest in ongoing violence against Swedish peacekeepers.
Rosengard police station was attacked (thetimes.co.uk)
Last August, Stockholm police officer Ted Eriksson, 34, was stabbed in the neck by an Afghan asylum seeker who claimed to be 17 but was suspected of being in his late twenties. The man said he wanted to kill a policeman, however officer Eriksson fortunately suffered minor injuries.

Ted Eriksson (LISA MATTISSON/TT NEWS AGENCY)
In April, 2017, three Swedish female police officers were beaten as they attempted to apprehend a violent refugee.
In 2013, Swedish police were targeted several times during the Stockholm riots – which saw a police station burned down, several officers injured, and rocks thrown at firefighters and other first responders.
(Editor's Note: The video below does work, despite the screen appearance)
And in 2016, migrants even attacked the crew of '60 Minutes' while they were filming a segment on… migrants.
Meanwhile, increasingly powerful weapons have been turning up in Swedish neighborhoods. In 2015, anti-tank missiles were found in a basement of a 36-year-old man suspected of smuggling guns from his brothers in Bosnia into the Swedish no-go zone of Örebro – considered an "Especially vulnerable area" according to a 2017 police report.
The man and five others – described by Bosnian media as linked to the Muslim Brotherhood, were arrested in a series of seven raids. Bosnian Authorities, however, told SVT News that the smugglers are not members of any extremist organizations and have no known links to terrorist activities.
After an investigation following seven raids in mid-2016, Swedish authorities dropped the smuggling charges and prosecuted the Örebro man for possession. He is currently in prison for drug offenses during his ongoing arms-related prosecution.
Police also found a trove of firearms, 16 hand grenades, the four anti-tank missiles pictured above and various other armaments.
Anti-tank missiles found inside a persons basement in Swedish city Örebro.

Seems like handgrenades is not enough for them anymore.

These people are literally storing heavy duty military weaponry in their homes in Sweden.

Are they preparing for war?https://t.co/KBArbGQyJs pic.twitter.com/vtxnGOJ3y6

— PeterSweden (@PeterSweden7) January 22, 2018
Speaking of explosive devices, grenade attacks in Sweden have been on the rise since 2012, although 2017 was a considerably better year, at 10 attacks vs. 34 in 2016.
That year, an 8 year old boy sleeping in the Gothenburg, Sweden living room of relatives was killed by a grenade thrown into the room. "At least five children and several adults were in the flat when the grenade was hurled inside," according to the BBC, who added that the boy died in his mother's arms.
And in February, 2017 a man was injured outside of a residence after a grenade was thrown:
Explosion, suspected grenade attack in Malmo. One injured: https://t.co/kmoumRdDhJ

— Tim Pool (@Timcast) February 27, 2017
It seems, perhaps, that Sweden's ultra-liberal, open-border, self-described feminist government is realizing they may have screwed up by allowing unchecked migration from Islamic countries associated with terrorism, violence, and perhaps containing people with an axe to grind against the West. As The Times notes:
Sweden has pursued a liberal immigration policy for more than a generation; its government speaks of being a "humanitarian superpower" for having taken in a large number of asylum seekers. After the migrant crisis of 2015, when more than 160,000 people sought asylum, the policy was abruptly changed. Yet there is little debate or reliable data about the integration of the 12% of the population that derive from non-western countries.

For a long time the Swedish establishment played down the decay of immigrant-dominated suburbs, but it can no longer ignore the explosion of violence.
It should also be noted that 70% of migrants coming into Europe as of 2015 were men of fighting age according to a Pew Research Center study.
Even Swedish Democratic party leader Jimmie Akesson "declared war" against organized crime and suggested that Sweden should deploy the military to no-go zones to counter the out of control violence.
"People are shot to death in pizza restaurants, people are killed by hand grenades they find on the street," Akesson said in parliament on Wednesday.
"This is the new Sweden; the new, exciting dynamic, multicultural paradise that so many here in this assembly … have fought to create for so many years," he said sarcastically.
And now the Swedish government is distributing survivalism pamphlets (for war with Russia, of course) and considering deploying the military to deal with idealistic gun-toting migrant youth gangs from brutally war-torn countries.
Who could have possibly seen this coming?
Feb, 2017 – Sweden's Deputy Prime Minister, Feminist Isabella Lövin mocks U.S. President Trump with all-female colleagues – one week before donning hijabs to meet with Iran's Supreme Leader Ali Khamenei.