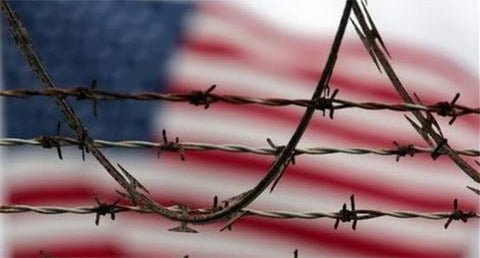 While President Obama and Congressional members have made an effort to convince their constituents that the provisions in the National Defense Authorization Act will never be used against citizens of the United States, the fact is that the laws clearly allow for the detention, arrest and detainment of Americans without charge or trial. The President attempted to assuage these fears of potential abuse of the law by including a signing statement promising he would never use the law against Americans, but the statement itself is non-binding, leaving the possibility of misuse wide open.
In the event of a declared national emergency or war, when fear and panic are running rampant, the President will, without a shadow of a doubt, implement whatever means necessary in order to control the populace and maintain order.
Detainment and interment will be at the top of the Department of Homeland Security's to-do list.
And if you have any doubts about this possibility then pay close attention to the words of U.S. Supreme Court Justice Antonin Scalia at a recent event where law students asked the judge about the internment of Japanese-Americans during World War II.
Keep in mind that this is coming from one of the people who will be sitting on the panel of judges who decides whether or not such an act is Constitutional:
Well of course Korematsu was wrong. And I think we have repudiated in a later case.

But you are kidding yourself if you think the same thing will not happen again.

That's what was going on — the panic about the war and the invasion of the Pacific and whatnot. That's what happens. It was wrong, but I would not be surprised to see it happen again, in time of war.

It's no justification, but it is the reality.
There will come a time in America when panic grips the nation. There will be riots, violence, and bloodshed resulting from any number of plausible scenarios like the collapse of our economic and monetary systems.
When this happens the government will implement their continuity plans. Martial law will be declared.
The Department of Homeland Security will activate their already stocked and staffed Federal Emergency Management Agency refugee camps. We've seen these in limited form during major storms like Hurricane Sandy. Those who came to FEMA for help reported that their facilities were like concentration camps.
But they were nothing compared to what would happen in a situation where hundreds of thousands of people would need to be detained under a national emergency declaration. According to various sources and a ton of research over the years, FEMA camps are situated all over the country and are awaiting internees.
A U.S. Army internal document provides some additional insight:
The document makes it clear that the policies apply "within U.S. territory" and involve, "DOD support to U.S. civil authorities for domestic emergencies, and for designated law enforcement and other activities," including "man-made disasters, accidents, terrorist attacks and incidents in the U.S. and its territories."

The manual states, "These operations may be performed as domestic civil support operations," and adds that "The authority to approve resettlement such operations within U.S. territories," would require a "special exception" to The Posse Comitatus Act, which can be obtained via "the President invoking his executive authority." The document also makes reference to identifying detainees using their "social security number."

Aside from enemy combatants and other classifications of detainees, the manual includes the designation of "civilian internees," in other words citizens who are detained for, "security reasons, for protection, or because he or she committed an offense against the detaining power."
If you're paying attention you can see the signs everywhere. The government of the United States is preparing for a widespread event that, based on their recent activities, will require the deployment of armed police, military and even a multi-million strong civilian security force.
This is happening and a Supreme Court Justice of the United States just confirmed that there will be no stopping it.