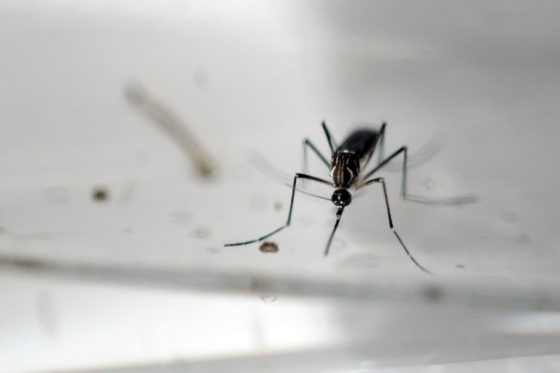 According to a new study, microplastic can escape from polluted waters via flying insects and contaminate our skies. The research revealed that these spreadable plastics could escape from polluted waters via flying insects and threaten birds and other animals which eat the insects.
The concern over "microplastic pollution" has been rising significantly since it has been discovered in more places. So far, very little research has been done on how microplastic could harm wildlife or human beings adding to the fears. What is known, however, is that the microplastic particles in question can harbor bacteria or leach toxic chemicals. Microplastics have been found in tap water around the world, in large amounts in the oceans and its sea creatures, and even in the remote Swiss mountains, according to a report by The Guardian. 
This new study, though, is shedding some light on just how much contamination there is from microplastics. The researchers, who published their findings in the journal Biology Letters, used Culex pipiens mosquitoes for their study becasue they are found across the world and in many habitats. Scientists fed microplastics to the mosquito larvae, which live in water, but found that the particles remained inside the animals as they transformed into flying adults. The researchers found the larvae readily consumed fluorescent microplastic particles that were 0.0002 cm in size.
Other recent research has found that half of the mayfly and caddisfly larvae in rivers in Wales contained microplastics inside of them.  "It is a shocking reality that plastic is contaminating almost every corner of the environment and its ecosystems," said Professor Amanda Callaghan, at the University of Reading, UK, who led the new research on mosquitoes. "Much recent attention has been given to the plastics polluting our oceans, but this research reveals it is also in our skies."
"Larvae are filter feeders that waft little combs towards their mouths, so they can't actually distinguish between a bit of plastic and a bit of food," Callaghan said. "They eat algae, which are more or less the same size as these microplastics," she added according to The Guardian.  Callaghan added that it is "highly likely" that other flying insects that begin as water larvae will also eat and retain microplastics. Birds, bats, and spiders are among the species that eat large numbers of insects, suggesting these are also consuming microplastics. "You can get swarms of insects," she said. "You could have a lot of plastic going up. It's totally depressing. These plastics are going to be around forever."