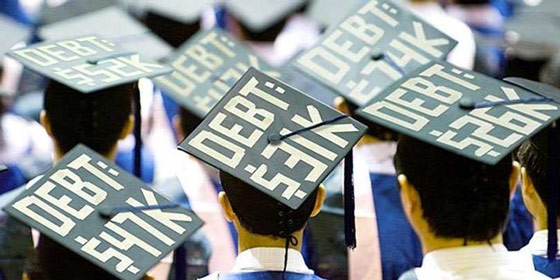 Student loan debt is a fundamental crisis.  Students are borrowing money to pay for school at an alarming rate. But as the problem worsens, it seeps into other sectors, such as the housing market, putting the entire economy on edge.
The Federal Reserve is apparently just catching on to the not-so-new reality: student loan debt is preventing homeownership.  A new paper published recently by the Fed finally connects rising student debt to dropping homeownership rates among young Americans between 2005 and 2014.  Since the borrower is a debt slave to the lender, and the lender of the vast majority of student loans is the government, most Americans are enslaved by their desire to get a fancy piece of paper.
The collective amount of American student debt is now at an astonishing $1.5 trillion, surpassing credit card debt and car loans. Unsurprisingly, this financial burden makes it much harder to buy a home, which, in turn, is hurting the housing market, according to a report by Splinter.
Homeownership among people ages 24 to 32 fell 9 percentage points, to 36% from 45%, between 2005 and 2014, the Fed said. While many factors affected the homeowner rate, the Fed said 2 percentage points, or about a fifth, of the decline was tied directly to student debt. That translated into 400,000 borrowers who could have owned a home by 2014 but didn't because of student loans. –Wall Street Journal
The amount of money borrowed by students isn't often translating to higher pay either. Many get stuck in the cycle of owning others money and the feeling of hopelessness runs rampant. Maybe it shouldn't surprise anyone that the number of Americans on psychiatric drugs (most are to treat depression) has also skyrocketed.
The Federal Reserve's research also says what most of us already know: the burden of student loans overwhelms the benefits of going to college. "While investing in postsecondary education continues to yield, on average, positive and substantial returns, burdensome student loan debt levels may be lessening these benefits," the Fed researchers wrote.  Meaning the United States is on the precipice of the cost of a college education far outweighing the benefits of obtaining a degree.
During the company's fourth-quarter earnings call this week, JPMorgan Chase CEO Jamie Dimon said that a stronger U.S. credit profile would prevent a near-term recession from looking anything like the financial crisis in 2007, according to Fox News Business. Dimon pointed the finger at student loans as an at-risk area due to a "lack of discipline." The banking executive also noted that because student debt is largely owned by the government, "the lender will not be there, so a lot of these borrowers are going to be stranded."