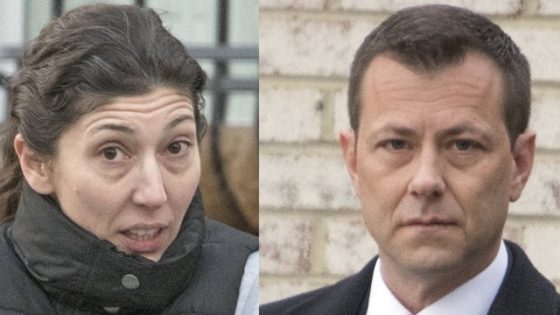 A GOP congressman is alleging that the text messages between Lisa Page and Peter Strozk are raising grave concerns about the new era of "media leaking."  Representative Mark Meadows says that the texts between the two lovers discuss the Federal Bureau of Investigation's "media leak strategy" to damage president Donald Trump.
Strzok, who was a leading investigator in both the Hillary Clinton and Russia probes, was fired in August after the DOJ inspector general excoriated him for a slew of anti-Trump text messages he sent on his FBI-issued phone, including one in which he said "we'll stop" Trump from becoming president
Now new documents provided to Congress are bringing Strzok's texts with Lisa Page back into the limelight.  The new documents raise "grave concerns" about an "apparent systemic culture of media leaking" among high-level FBI and Justice Department officials to release information damaging to President Trump, a top Republican congressman charged in a letter to Deputy Attorney General Rod Rosenstein on Monday, according to a report by Fox News.
In the letter, Rep. Mark Meadows, R-N.C., points in particular to two text message exchanges in April 2017 between now-fired FBI agent Peter Strzok and former FBI attorney Lisa Page, in which the two discuss the bureau's "media leak strategy."

"I had literally just gone to find this phone to tell you I want to talk to you about media leak strategy with DOJ before you go," Strzok texted Page on April 10, 2017, according to Meadows, who cited newly produced documents from the Justice Department. -Fox News
Only two days later, Strzok wrote another text to Page which read, "Well done, Page," and told her that two negative articles about Page's "namesake" would soon come out. That was an apparent reference to Carter Page, the former Trump adviser whom the FBI surveilled for months after obtaining a warrant from the Foreign Intelligence Surveillance Act (FISA) court.
Although the FBI and DOJ declined to comment, Strzok's attorney Aitan Goelman, said the "media leak strategy" in the text referred to efforts to stop leaks.  "The term 'media leak strategy' in Mr. Strzok's text refers to a Department-wide initiative to detect and stop leaks to the media,"  he said in a statement.  Of course, if that's true, then why would Lisa Page be told two negative articles were about to come out about her namesake? You probably don't need to ponder this too long to realize Goelman is lying out of his backside.
Especially when you take in consideration that on April 11, 2017, the Washington Post published a story titled, "FBI obtained FISA warrant to monitor former Trump adviser Carter Page."  The article, citing "law enforcement and other U.S. officials," reported that the DOJ and FBI had convinced a FISA judge there was "probable cause to believe Page was acting as an agent of a foreign power, in this case, Russia."
The text message exchanges "should lead a reasonable person to question whether there was a sincere desire to investigate wrongdoing or to place derogatory information in the media to justify a continued probe," Meadows, who serves on the House Oversight Committee, wrote.
Page has not been charged with any wrongdoing. Heavily redacted documents have since shown that a dossier written by ex-British spy Christopher Steele and funded by the Democratic National Committee and Hillary Clinton campaign played a key role in obtaining the FISA warrant to surveil him beginning in October 2016. -Fox News
There is "troubling evidence" that the FBI and DOJ continue to coordinate leaks to the media, Meadows also stated. While those disclosures may not be unauthorized, he added, they still compromise the appearance of impartiality at the bureau.