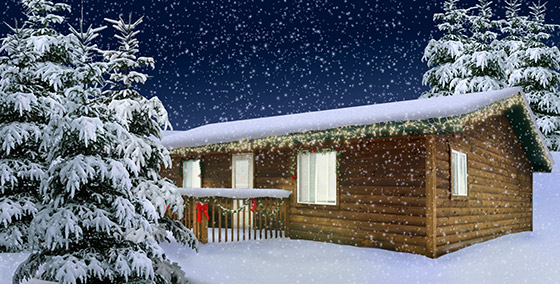 Christmas Eve is often a time of happiness and joy for many, but according to a new Swedish study, there's a health risk that peaks on that day at 10:00 pm.  That's when the annual peak time for heart attack risk occurs, and it happens more often in the elderly.
Stress is one of the main culprits of this risk factor. In Sweden, Christmas Eve is actually the bigger event than Christmas Day, and researchers noted a 37 percent increased risk on this day, peaking at 10:00 pm. More generally there was a 15 percent increased risk over the Christmas period, according to Science Alert. The risk was the greatest in the over 75 age group and those with existing diabetes or heart disease. The study also noted more cases of heart attacks reported on Midsummer holidays, early mornings, and Mondays.
"Christmas and Midsummer holidays were associated with higher risk of myocardial infarction (otherwise known as a heart attack), particularly in older and sicker patients, suggesting a role of external triggers in vulnerable individuals," the team explains in their study. Previous studies have also made the link between holiday seasons and more heart attacks, but this new study adds some extra interesting detail from many more years of data.
While this study alone isn't enough to prove cause and effect between the Christmas season and heart attack risk, unmeasured factors might be lurking unseen in the background, it does fit in well with the existing research out there.  The holiday season comes with stress about money, anxiety about the number of events one feels obligated to attend, and very limited time spent on oneself. In fact, it has become almost socially taboo to focus on limiting your own stress during the holidays.
"Excessive food intake, alcohol, long distance traveling may also increase the risk of heart attack," one of the team, David Erlinge from Lund University in Sweden, told Science Alert. "Interestingly, the pattern of increased risk in the morning which dominates the rest of the year was reversed at Christmas, with an increased risk in the evening, indicating that the stress and eating during the day triggered the heart attacks."
Remember to take care of yourself this holiday season.  Carve out some time to destress from everything and relax. There are a few things that can be done in a natural and healthy way to recuperate your calm during the holidays.
An earlier study from the same team linked increased heart attack risk with cold and cloudy weather, too. Considering the control data in this new study was taken from the weeks close to Christmas, this factor should have already been accounted for. "Understanding what factors, activities, and emotions precede these myocardial infarctions and how they differ from myocardial infarctions experienced on other days could help develop a strategy to manage and reduce the number of these events," said the researchers.