This week's Strategic Relocation Briefing by Joel Skousen, compliments of the Strategic Relocation web site, takes us to Southern Utah. As you'll see from Mr. Skousen's assessment, if you are living in Southern California or Arizona this may just be the area you're looking for as an ideal retreat location. It's got fairly warm weather in winter, low crime rates and it's far enough away from major metro areas that you won't have to worry about a golden horde overrunning your town in the event of a major crisis. 
As always, Mr. Skousen puts forth an insightful analysis focusing on essential criteria that should be on your checklist no matter where you're looking to live (or retreat to). Water, food availability and population density are critical factors. But just as important in a crisis is accessibility. You need to be able to reach your safe haven in an emergency, but you want it in such a locale that those leaving the major cities in search of scarce resources won't ever make it to you. This is why exploring the primary thoroughfares to your retreat area is so critical and why it's important to stay informed about what's happening in the world. When a crisis is imminent you need to be first to act so as to avoid the inevitable traffic that will block exit points out of your city (and have a back up exit strategy in case you get bogged down with everyone else).  
When you are ready to explore retreat areas around the country take a look at the Strategic Relocation For Sale By Owner listings, where you'll find preparedness-minded search tools, analysis and property ratings. 
For questions about a particular area or assistance with relocation contact Survival Retreat Consulting.
For additional analysis and information by Joel Skousen you can review previous Strategic Relocation Briefings covering regions all over the United States, as well as international expat destinations.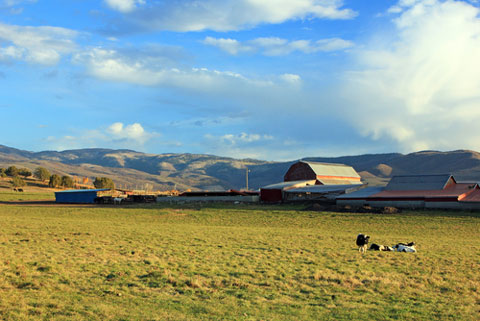 (Pictured: Farm in rural Southern Utah)
---
Strategic Relocation Briefing: Southern Utah
By Joel Skousen
Author, Strategic Relocation and The Secure Home
Southern Utah has two key advantages as a retreat area:  1) it's the closest 5-star rated state (Utah and Idaho) within a day's drive of Southern California and Phoenix and 2) it's the only area in that high security region that has a moderate and sunny winter climate.  Yes, both of those are compromise criteria, but there are a lot of people in SoCal and So. Arizona that desperately need a safe retreat option within reach by car.
Although seeking a warm climate retreat is a contradiction of terms relative to safety, you'd be surprised how many consultation calls I get from people who feel they can't tolerate the cold of the safer northern retreat areas and want to relocate to someplace warm.  They want both safety and a warm balmy climate for easy living during the remaining good years. That's never possible in the truly warm winter areas because the easy living climate always attracts too many people of the soft, fun loving variety who don't do well in a crisis. That said, Southern Utah is about the warmest climate they'll get at the southern end of the highly rated Intermountain West.  It rarely freezes there, as evidenced by the proliferation of desert palm trees.
One of the reasons the Intermountain West is rated so high for safety is its distance from major metro areas like LA and Phoenix—and also because those distances are composed of dry, inhospitable deserts with few way stations.  The single freeway going north is going to be a major impediment to travel, even if there is some fuel in people's tanks.  Like Katrina, this freeway with its many narrow passes will become quickly blocked with stalled vehicles that have broken down or run out of fuel. And, walking isn't an option for most.  People who count on this retreat option will need advance warning.
Southern Utah's main disadvantage is that it is only an hour and a half by freeway from Las Vegas. But cities like Vegas will also provide the benefit of absorbing most of the refugees coming out of California.  That will inevitably drive some people to push farther north for relief—putting Mesquite NV at high risk. But, there's only one road going north from Mesquite to St. George, Utah and that's I-15, which has to traverse the narrow Virgin River canyon of No. Arizona—a road that can be easily blocked if the locals see themselves in danger of being overrun.
Even though city of St. George itself isn't the retreat destination I recommend it is the hub of Southern Utah, and will serve as your commercial and cultural center if you have a retreat in the surrounding areas.  It has a nice combination of old Utah pioneer architecture (red sandstone) and the Southwestern look of stucco and tiled roof houses that match a desert landscape.  There are red rock mountains and views in all directions with plenty of outdoor activities.
The area experienced a major building boom up until 2008 so it's now a very modern community but still has a family friendly atmosphere.  I like how they have redone the downtown area.  They've preserved and modernized all the old pioneer historical buildings, and then integrated it all into a pedestrian mall type environment mixed with shops and markets surrounding with a tiled water course in the middle of town that families visit in the evenings to stroll around and let kids splash in the shallow water course—good planning for a desert community.
There are plenty of water resources in the mountains (which water hungry Las Vegas covets) so Southern Utah isn't in the same dire situation as California for water supplies. I don't recommend anything close to the I-15 corridor, but there are good residential locations to the West of St. George tucked away behind the high red rock Mesa that used to serve as the St. George airport—like a giant aircraft carrier in the desert.  In general, the valley behind the mesa is called Green Valley and follows the Santa Clara river up to Santa Clara and Ivans.  Hwy 18 leads you up to the mountain communities of Veyo and the Pine Valley mountain areas where you find the best cabin retreat—still at moderate altitudes.
To the northeast of St. George, heading toward the spectacular Zion's National Park are the towns of Hurricane, La Verkin, and Toquerville.  Hurricane has some good irrigated farm lands to the south of town, and two small airports as well. A couple of my SoCal clients who are private pilots have opted for the airplane escape option and have found property in Hurricane near the public airport, or at Sky Ranch, the private airpark and homesite area just a little farther south.  All the farm areas in Hurricane are a fair distance from the path tourists take to nearby Zions National Park.
The Toquerville area is a small by out of the way town with a few small farms to the north of La Verkin.  It is particularly noted for its fine gravity fed water supply, both for domestic water and for pressurized irrigation—naturally pure, and doesn't depend on pumps like the communities that depend on the Virgin River for irrigation.
Just north of St. George, but still part of Southern Utah is Cedar City, which has a university (SUU) and the well known Shakespeare summer theater (which has a lot more than Shakespeare).  While St. George is around 3000 feet in altitude, Cedar City is up in the high plateau starting at 4500-5500.  You can still get a full growing season at the high desert altitudes on  irrigated land, but it's cold in the winter. I mention this area as part of this analysis only because people in St. George often have retreats out in the mountains to the east of Cedar City on highway 14 where we find the high mountain retreats sites of Duck Creek.  But, at 8500 feet of altitude, you get lots of snow in the winter, along with the beautiful stands of fir and pine trees.
A lesser known part of Southern Utah is the area Kanab, and the farming valley going north on highway 89.  Kanab was for many years a kind of backwater Hollywood base for making western movies in the Red Rock country of Utah and Arizona.  It's also the gateway to the north rim of the Grand Canyon—by far the prettiest side of the Canyon, with its magnificent Pine forests. Highway 89 is also the only rural highway access coming north from Arizona around the Grand Canyon.  Going north into Utah, Hwy 89 is dotted with lots of old Mormon Pioneer communities with farmland along the Sevier river—there are a few retreat sites away from the highway.
For those who have the means to really get away into some breathtaking retreat country, try Tropic, Utah, east of the spectacular Bryce Canyon National Park.  To get even deeper into retreat paradise, follow Hwy 12 to Boulder, Ut at the base of the forested Aquarius Plateau of mountains.  It's a pristine little farming community surrounded by some of the best hunting areas of Utah—"Ain't nobody going to find you there!" as they say.
Always check www.strategicrelocation.com for private listings of retreat property when you begin your search, wherever you decide to make your strategic relocation to.  Retreat consultant Todd Savage who runs the site does a good job of sifting through the offerings and providing you insights and ratings into the pros and cons of each.
Lastly, be sure to stop by the Sustainable Preparedness Expo in Spokane, Washington on Sunday September 21st, where I will be speaking and meeting attendees.