The following article has been contributed by Joel Skousen and the Strategic Relocation website. For assistance finding the perfect retreat property, whether staying inside of the U.S. or looking internationally, contact Survival Retreat Consulting with any questions you may have.
You can read previous Strategic Relocation Briefings from Joel Skousen and the SRC team here.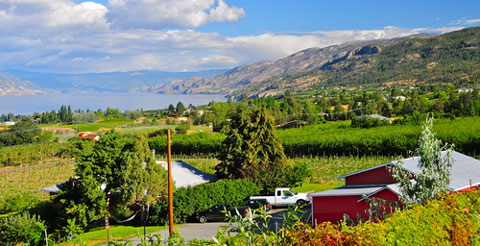 (Pictured: Okanagan Valley, British Columbia, Canada)
---
Weekly Strategic Relocation Briefing: Canada's Okanagan Valley, BC
By Joel Skousen
Author, Strategic Relocation and The Secure Home
For those looking to relocate outside the country, Canada offers some interesting possibilities compared to other expat communities in Latin America and Europe.  First and foremost, you don't feel like a foreigner in Canada.  You can blend in fairly easily with our neighbors to the north and can easily pick up the slight Canadian accent—most notable by the more complete pronunciation of the vowels in words like "about," (pronounced: a-bow-oot, rather than a-bowt, as Americans say it).
Second, a move to British Columbia (BC) isn't as irreversible as moving down to Central or South America or Europe, if things don't turn out like the expat websites say in a real crunch. Going to or from most foreign destinations limits what you can take with you due to reliance on air travel. Returning from Canada by car is far easier due to the common northern border and moving funds back and forth is also facilitated with the seamless relationship between US and Canadian banks.
But on the down side, don't expect to find the cheap expat lifestyle in Canada.  Taxes are generally higher as well as prices for most things, which Canada has to import from the states.  And our northern neighbor never went through the Real Estate downturn of 2007 and 2008.  Real Estate prices in Canada are therefore relatively high for Americans, especially in areas highly sought after for tourism or immigration—like Vancouver BC, for example, and to a lesser extent the Okanagan Valley.
And of course, any mention of Canada as a retreat or relocation destination is not complete without the warning about their anti-gun policies. Going across the border into Canada, border agents ask very intrusive questions to make sure Americans aren't bringing any weapons into the country.  The Canadian government (very much minions to the globalist conspiracy that plagues America), seems to have an irrational fetish about the "evils of firearms" and has taken advantage of not having a constitutional "right to bear arms" in order to nearly ban the possession of handguns.  And despite Canada's passion for hunting, even rifles (which are allowed grudgingly) are now required to be registered.  And, as Canadian gun-owners warned us, "registration does lead to confiscation," which is happening in Canada, based on technical violations of the ever-changing laws.
So, while this is a significant restriction, it is no better in any other foreign relocation destination—no country allows the kind of gun freedom we have in the US.  But, for all its anti-gun fervor, many courageous Canadians defy the bans and have unregistered guns anyway, and keep them well hidden—as do some Americans who live there.  While that's good for ultimate self-defense, you can't very well practice shooting in Canada with a banned weapon unless you install an underground shooting range at your rural property. Don't forget, as well, that Canada is a very big country with low population densities in all the rural areas, and a lot of wild and inaccessible places where you can simply simple evade some of the bad rules.
So, just where is this beautiful Okanagan Valley?  It's right above central Washington State.  Just follow Hwy 97 north across the border north of Oroville, Wa.  The Okanagan is a narrow extension of this same broad valley in central Washington State, surrounded by forested hills to the east and west.  But as it moves northward the valley becomes more narrow as the American and Canadian Rockies shift more to the west and merge with the coastal mountains. There are no more broad plains once you get into BC — just mostly north-south oriented valleys with moderate elevation hills to either side which provide excellent forested retreats.
The dramatic snow capped peaks of the Canadian Rockies, with its gorgeous vacation resorts–like Lake Louise, form the eastern border of BC with neighboring Alberta.  Although it's nice to have close access to these stunning mountain areas, the Rockies are fairly inhospitable for full time living, and that's where the Okanagan Valley shines.
It's low enough in elevation to grow the full range of crops, and yet is bordered by forested hills.  It is considered a "Banana Belt" of relatively warm climate this far north.  Orchard and vineyards abound in the valley owing to this milder climate, which is drier than the Pacific Northwest, but nowhere near as cold as Alberta. The coldest mass of Canadian winter air tends to stay east of the Rockies as it descends into the American plains states.
The Okanagan has features resembling both the US Intermountain West, and Eastern Washington State.  It's not as high in altitude as the Utah and So. Idaho areas, but it shares the lower rainfall, and sunnier weather, but only in the summer. It's like a cross section of the expanse from Washington State to the Front Range of Colorado all compressed into a much smaller area–with none of the high winds in between.
The entire area is free from nuclear targets, although it is possible to receive fallout from the Seattle area under certain wind conditions. The Okanagon valley is a prime area for both farm residences and forested mountain retreats. It also has a couple of long, manmade lakes in the valley which makes it a sports and boating paradise.
The 3 major towns in the Okanagan are, beginning from the southern US border area, Osoyos, Penticton (at the south end of Okanagan lake) and Kelowna, also on the Lake farther north. For those who want to take advantage of frequent border crossings back and forth from the US to Canada, pick Osoyos or Penticton—considerably larger than Osoyos. And, there is also Okanagan Falls at the southern point of Skaha Lake just to the north of Osoyos.
Kelowna is the third largest metropolitan area in the BC province and has a population of about 200,000.  So, it's good sized but not huge. Nearby communities are West Kelowna (also known as Westbank, on the other side of the lake, and Vernon to the north, as well as Peachland to the southwest.
Sadly, Kelowna is the fourth least affordable housing market in Canada, and Penticton to the south isn't much better. It has often been compared to the lifestyle and cost of the pricey Napa Valley, California. That said, prices are more reasonable in the farm areas, which are not sought after by tourists. Crime in the area is low except during summer Regatta festivities, when drunken revelers and some gangs have been known to come to town.
The climate of the Okanagan Valley has dry, sunny summers, but cold and cloudy winters similar to Eastern Washington—four distinct seasons. Kelowna has the only international airport in the area. Also, like eastern Washington the area gets about 15 inches of rain a year, so it depends on irrigation from waters stored in mountain reservoirs to grow crops—very reliable and cost effective.
Although the valley averages 300 hours of sunshine yearly, the winter months are mostly overcast.  So, this means is that solar electric power is only marginally cost effective, but solar water heating is very doable if you dovetail this installation with a wood stove and water heating coil for winter use.  The entire valley is a low wind area—making it comfortable for outdoor living, but not suitable for wind power.
With its scenic lake and mountain views Kelowna has become one of the fastest growing cities in Western Canada, which is a negative for relocation.  But the growth is only temporary and will not be sustainable as things worsen and fair-weather tourists and the wealthy leave. Only its farming base will remain.
At Osoyos, another highway (3) takes off to the West and enters the Similkameen River valley which is similar to the Okanagan in climate and geography but smaller. The main town is at the north end of the valley, called Keremeos—whose main industries are horticulture, agriculture, ranching, and wine making.  It is also noted for its many fruit stands which pop up everywhere as orchardists try and sell their wide variety of fruits during the summer.
In summary, while Canada isn't for everyone, it is one of the most versatile and safest of the foreign options.  But, as always, I never recommend clients burn all their bridges back to the states.  It is wise to always have an option or out should your primary destination become untenable. It fact, it's wiser for foreign relocators to make their foreign destination the retreat and not the primary security strategy since the supplies and systems that make a secure home and property are more available in the US than any other place in the world.  Be sure and check www.strategicrelocation.com for specific real estate listings of survival-potential property in this and other similar areas.
Survival Retreat Consulting: (For Informational Purposes only) In an extreme emergency, the northern borders are very porous, and can be crossed in many areas, especially the mountainous terrain of N/E Washington, Northern Idaho and N/W Montana with ease. If you need to return to the States if the borders are closed to vehicle traffic during a socio-economic collapse, this should not be a problem. The Border Patrol has a hard time right now tackling issues on the Canadian border due to lack of manpower and resources, as well as the extended response time to remote areas when the sensors alert to a crossing deep in the woods, so they watch the feeder roads and USFS trails carefully. If there were a major deadly pandemic in Canada, expect border security to be very tight, even in remote areas, more than likely manned with military troops to stop border crossings, for obvious reasons. On the flip side Canada may shut their borders down as we are enveloped by a major collapse from any number of trigger events. If you build a retreat in Canada it's best to keep a close eye out and pay attention to the signs of a collapse, so you can make your evacuation successful.
This article has been generously contributed by Joel Skousen and StrategicRelocation.com
More Strategic Relocation Briefings:
The Makings Of Some Good Retreat Country for Those Living in the Southwest
The Safest Areas in America: An Expanded Western Relocation Zone
For Expats: One of the Oldest of the Expatriate Destinations