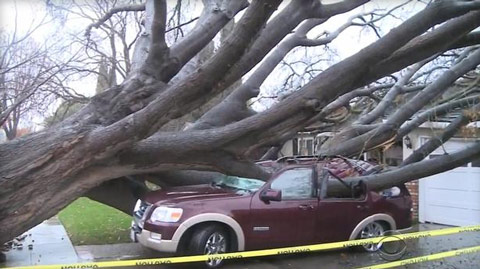 (Pictured:The aftermath of 2014 California storm)
As the biggest storm in five years took aim at California this week cities across the state distributed sandbags, cancelled school and warned residents to prepare for power outages. And though the storm didn't really live up to the media hype, some people did take the warnings to heart and made last minute trips to the grocery store to stock up on foodstuffs and other supplies just so they wouldn't have to go out in the rain.
But not everyone was prepared. One San Francisco resident in particular highlights just how susceptible America is to disasters and what to expect in the event of a widespread emergency.
"I thought we were going to watch tv all day, but now the power's out," Beth Ludwig said. Her mom added that the kids had never experienced a power outage before.

Georgia Virgili was one of the hundreds of thousands in the Bay Area who lost most of the conveniences of modern life.

"I didn't have power," Virgili said. "I couldn't get my car out of the garage, I have no food, I have no cash, so I'm trying to forage for something." (CBS)
The storm that swept California over the last 48 hours wasn't really that severe. Moreover, the public had nearly three days of advanced warning that it was coming. Yet, even this was apparently not enough to convince people to make even the most basic of preparations.
Mr. Virgili was totally unprepared, as are about 99% of Americans based on recent preparedness surveys conducted by The Discovery Channel.
 As many as three million Americans now fall into the category dubbed 'preppers' – people who are making detailed plans for the end of the world as we know it.

The preppers are an ever-growing group of survivalists who take extreme measures to prepare for a major catastrophic event.
Given the various threats faced by humanity, including scenarios like an economic collapse. a rogue attack targeting our power grid or massive natural disasters, one can only imagine what it will look like should the system as a whole experience a sustained large-scale disaster.
To give you an idea, here are a couple of pictures taken in the aftermath of Hurricane Sandy in 2012. Within 72 hours the system began to break down as transportation systems in large metro areas came to a standstill. The only supplies available were being distributed by the National Guard and availability was so thin that FEMA had to place emergency orders for more food. There was no clean water, no gas, and grocery stores had been cleaned out to the point that people resorted to digging through the trash just to find a meal: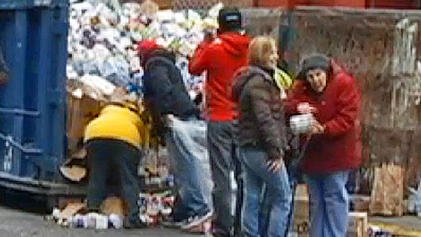 Luckily, the emergency was similar to what we saw in California, so it didn't come as a surprise to government officials, who had already mobilized the National Guard with distribution areas for Meals Ready To Eat and filtered water: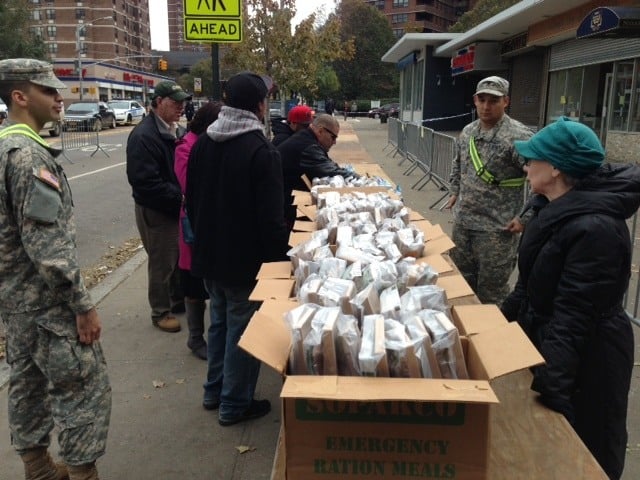 Time and again we see the same story play out during disasters. During winter storms grocery store shelves have been cleaned out. After the Haitian earthquake tens of thousands were left without medical aid and armed gangs looted and killed anything they could. And who could forget Hurricane Katrina, where the government failed so miserably with their emergency response that it took them three days just to get clean water to those stuck in the Super Dome.
Now consider what would happen if something like this went on for days or weeks. What about months?
A recently released Congressional report suggests that a worst-case scenario grid down power outage lasting one year would leave 9 out of 10 Americans dead. This is an extreme example, of course, but certainly a plausible one and it emphasizes just how serious and horrific it will be for those who are not prepared.
That nearly 99% of Americans have made absolutely no plans to insulate themselves from disasters and emergencies is shocking, but to be expected. Most people are under the impression that all of those billions of dollars being spent by the Department of Homeland Security and the Federal Emergency Management Agency are for supplies that will be distributed to the general population should disaster strike. The government will help, but their capacity in an extreme emergency will be very limited. Former Secretary of DHS Janet Napolitano has warned that their response teams will likely be overwhelmed and she has recommended that people have at least a two week supply of food and water. But that warning has fallen on deaf ears, as evidenced by the "tragic" stories we hear in the aftermath of disasters on a regular basis.
America as a whole is not prepared.
If the worst happens we can fully expect a complete breakdown of our civilized society within 72 hours. What's astonishing is that much of what is to come could be prevented if every individual took responsibility for themselves and put together a basic preparedness plan that included some emergency provisions like a 30 day food supply, water reserves, medical supplies and a personal defense plan.
Hattip WhoWuddaThunkIt
Recommended Resources:
The Prepper's Blueprint: Prepare Yourself For Any Disaster
The Pantry Primer: Build a One Year Food Supply in Three Months
52 Weeks to Preparedness (Free Online Web Series)
Suggested Preparedness Supplies:
Meals Ready To Eat (Full Course Meal, With Flameless Heater)
Mainstay Emergency Drinking Water
Tactical Field Trauma Kit (With Quikclot)