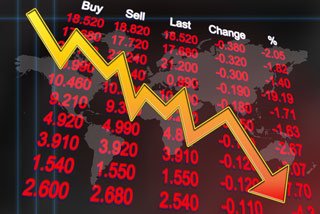 The S&P 500 has dropped the most in a month all on fears of an inquiry into the impeachment of President Donald Trump.  Political turmoil has caused ripples across the entire economy.
House Speaker Nancy Pelosi announced a formal impeachment inquiry on Tuesday after she met with her caucus to discuss the call Trump had earlier this year with Ukraine's leader, Volodymyr Zelensky, where he allegedly pressured him to investigate Democratic presidential hopeful Joe Biden's family. "Now we have the facts, we're ready," Pelosi said. But that kind of rhetoric devastated the stock market.
The S&P 500 dropped 0.8%, its biggest one-day drop since Aug. 23, to 2,966.60. The Nasdaq Composite also had its worst day in a month, dropping 1.5% to 7,993.63. The Dow Jones Industrial Average closed 142.22 points lower, or 0.5% at 26,807.77 after falling more than 200 points at one point. –CNBC
Stocks were able to regain some ground after Trump Tweeted that he would release the full transcript of the controversial call. Trump said in a series of tweets he "authorized the release tomorrow of the complete, fully declassified and unredacted transcript of my phone conversation" with Zelensky.
https://twitter.com/realDonaldTrump/status/1176559970390806530?ref_src=twsrc%5Etfw%7Ctwcamp%5Etweetembed&ref_url=https%3A%2F%2Fwww.cnbc.com%2F2019%2F09%2F24%2Fstock-market-us-china-trade-talks-in-focus-on-wall-street.html
Historically, stocks struggle when a president faces the possibility of impeachment. In 1998, for example, the S&P 500 fell about 20% at one point from its high to its low as independent counsel Kenneth Starr ramped up his investigation of President Bill Clinton for perjury and obstruction of justice, according to CFRA. The market would bottom as the House began impeachment proceedings and then would later recover all those losses and hit an all-time high in November of that year.
Disappointing consumer confidence data also took its toll on the stocks. Consumer confidence for September slipped to 125.1 from 135.1 in August. Economists polled by Reuters expected a dip to 133.5, according to CNBC.