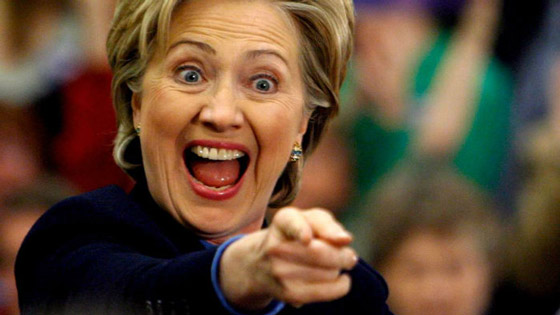 The State Department has said there are "multiple security incidents" concerning Hillary Clinton's email scandal, which the mainstream media continues to sweep under the rug.  On  Monday, the State Department revealed that it has identified "multiple security incidents" involving current or former employees' handling of Hillary Clinton's emails and that 23 "violations" and seven "infractions" have been issued as part of the department's ongoing investigation.
According to a report by Fox News, this information came in a letter to Iowa Republican Senator Chuck Grassley, who is responsible for overseeing the security review. "To this point, the Department has assessed culpability to 15 individuals, some of whom were culpable in multiple security incidents," Mary Elizabeth Taylor, the State Department's Assistant Secretary in the Bureau of Legislative Affairs, wrote to Grassley. "DS has issued 23 violations and 7 infractions incidents. … This number will likely change as the review progresses."
"In every instance in which the Department found an individual to be culpable of a valid security violation or three or more infractions, the Department forwarded the outcome to the Bureau of Diplomatic Security's Office of Personnel Security and Suitability (DS/PSS), to be placed in the individuals' official security file," Taylor wrote alluding to disciplinary actions being taken. "All valid security incidents are reviewed by DS and taken into account every time an individual's eligibility for access to classified information is considered.
"This referral occurred whether or not the individual was currently employed with the Department of State and such security files are kept indefinitely," Taylor added. "Consistent with the referral policy, for individuals who were still employed with the Department at the time of adjudication, the Department referred all valid security violations or multiple infractions to the Bureau of Human Resources."
President Donald Trump also relished in the news that "Crooked Hillary's" email scandal coming to a head as this information has never before been admitted.
https://twitter.com/realDonaldTrump/status/1140844412127326208
As for Trump's question about Democrats investigating the scandal, we all know that won't happen.  Clinton's private email use has remained in the spotlight, as the DOJ looks into potential misconduct in the handling of federal authorities' surveillance and intelligence operations in 2016. Then-FBI Director James Comey said in 2016 that Clinton's handling of classified information was "extremely careless".  Those remarks were watered down from their original draft, however, "no reasonable prosecutor" would bring charges.
Nothing will likely come from this revelation because as we all know, the government is not interested in the truth.  They are interested in protecting some while attacking others and maintaining their power with propaganda. Author Peter Schweizer details much of both Bill and Hillary Clinton's corruption in his book: Clinton Cash: The Untold Story of How and Why Foreign Governments and Businesses Helped Make Bill and Hillary Rich.