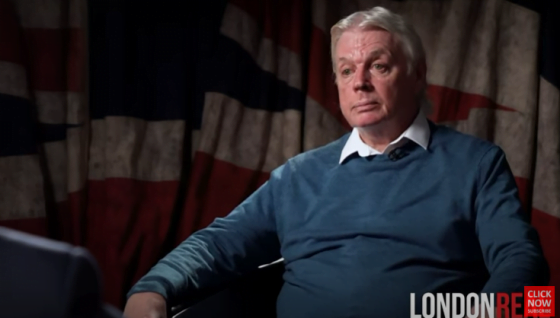 In a video that the mainstream media, social media giants, corporations, governments, and elitists don't want you to see, one man speaks truth to power.  Brian Rose, of London Real, interviewed David Icke on Sunday in an interview that the powers that shouldn't be have been desperately trying to prevent people from seeing.
In the interview, which in totality, was over two hours long, Icke says "the greatest form of control is dependency."  And what we are witnessing now is millions of Americans who followed tyrannical orders to close their businesses, now getting handouts from the government instead of disobeying tyranny.
Icke says this is exactly why people need to get off their knees and stand up to the ruling class and the police who are trying to enforce their enslavement to elitists.
"You have to have a backbone that won't vibrate," Icke says to Rose. "I said to you in the last interview, and some people might have thought it was a bit of bravado; I said 'I'm more powerful than them and they KNOW IT.' And within minutes of the interview ending, they were proving me right. Here they are, this cult that I will explain, that control the mainstream media, my God, has that been any more obvious than in the last few weeks? They control Silicon Valley, they own Silicon Valley, they own the corporations, they own the banking system, and yet, one interview, with one guy, and this all-powerful 'we're in control' omnipotent, all-powerful force, is running around like someone shouted 'FIRE!'

And what are they saying, Brian? They're saying 'You're more powerful, one man, than we are. And so we have to stop what you're saying getting to people. Because we know the consequences for us of that happening.'"
Icke goes on to say that if they (elitists, governments, mainstream media, etc.) are going to pull off ultimate totalitarian control of every human being on the globe, they have to control our perception of reality because everything has a frequency and the truth resonates with people.
"We are in the situation we are in now because of mass human perception. Part of that perception is 'there is a dangerous virus so I must stay indoors because the authorities are looking after my interests and they told me that I have to and if I go out, I might catch this deadly virus and Oh my God, we're all gonna die!' And that perception allows vast numbers of people to concede their uniqueness, to concede their freedom and to sit in their house under house arrest being told what to do by a handful of people.

And the other perception is 'I can see there's something not right here, but what are the consequences of me saying so or taking this on and challenging it?' And that perception of 'what are the consequence for me?' means that lots of people who have realized something's not right, my GOD is it not right…also sit under house arrest.

Those two perceptions, they are the reason this is happening."
When you break down the number of people in this country and globally that are behind this (even adding the military and police, the politicians, and the elitists) it's very small. And yet they are controlling 8 billion people. It's perception and the fear of consequences that are making this all possible, says Icke.
"The greatest form of control is dependency," says Icke.  And those who followed the orders, all but ensured they will be enslaved during this scamdemic.
Icke has said what we continue to say here.  This all ends when people stop submitting to tyranny or in Icke's words: when we stop "acquiescing to the illusion of power."
David Icke To LEOs & Military: "Look Your Children In The Eye" & Tell Them YOU Enforced Tyranny
They do not want any of us to know that we have the power to bring them down, and that's the reason for the censorship and the police state.
Click here to watch the entire interview with David Icke.
For more information on how they control people's perception, watch the documentary, Out of the Shadows. This documentary is being banned by YouTube and censored by the mainstream media, Hollywood, elitists, and corporations. Watch it at the link provided before it's removed again.