This article was originally published by James Davis at Future Money Trends.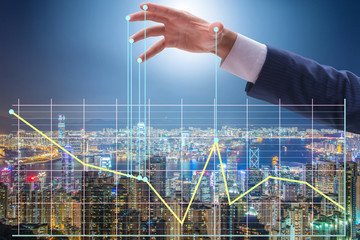 Today's letter is essentially a warning: if you are risking funds that you might need before 2025, YOU HAVE NO BUSINESS being in the markets today.

Anything can happen in the coming years, including a situation where prices remain EXACTLY THE SAME as today's are, so if you aim to grow your investments, you might not see appreciation for a few years.

Dividend distributions have historically been in charge of delivering between 30% and 50% of TOTAL RETURNS to shareholders. I stress this because while management teams can play with profits on the books and with how they're displayed, no one can ARGUE WITH rising, consistent dividend payments.
That's the reason why nearly 40% of my net worth is tied to companies that have been raising their dividend payments for a decade OR MORE, without fail, and preferably a generation or more (25 years).
These companies are collectively called "Dividend Achievers" and "Dividend Aristocrats."

I want to PROVE TO YOU that the longer you can HOLD TIGHT and avoid trading in and out of these, the more MIRACULOUS YOUR RETURNS will become over time!
In our NEWLY PUBLISHED watch list report part 2, which you can ACCESS HERE, we just entered a position in PPG Industries (PPG), for example, when the stock hit $97/share just a few days ago.
I want to show you how this company will ENRICH SHAREHOLDERS by 2030, so look at the following stats: In 2013, shares traded for roughly $66 and they paid $2.44/share in dividends. That equates to a yield of 3.6%. Fast-forward to today and split-adjusted, the company pays $4.08/share, which comes out to 6.2% on YOUR 2013 COST.
At this rate, by 2030, the company will pay a YEARLY DIVIDEND of $9.70/share, which will yield a 14% annualized return on the 2013 cost!
In other words, if you can avoid the TEMPTATION TO SELL shares prematurely or at the first sign of trouble and hold for 17 years, you'll be earning 14% per year by owning one of the best businesses on the planet.
You can spoil all of this magic by selling when an event like COVID-19 occurs or you can remember the above lesson.
As you can see in the chart, at any given moment, there are PLENTY OF THINGS to worry about, such as the Banana Republic state of affairs in the United States right now or the lunacy of ENDLESS SPENDING.
FED Chairman Alan Greenspan held the Federal Reserve's balance sheet at 5% of U.S. GDP for the longest time, and that may have been a COILED SPRING that his predecessors were forced to deal with or he was simply a SUPERIOR CENTRAL BANKER compared to them.
As of 2020, the Federal Reserve's balance sheet is AN ASTONISHING 33% of GDP, a figure that will be unleashing terror on the markets for years to come.
We assess that it will be nearly impossible to expect normal returns from the S&P 500 index, the Dow Jones, or the NASDAQ 100, and the big money is in finding the "COVID-19 VICTIMS" that are able to weather the storm and return to PRE-VIRUS levels.
The term "V"-shaped recovery is FINE TO USE, but we need to understand that one person's V is another person's U. It all depends on your timeline; the number of lost jobs this virus has brought about IS CATASTROPHIC.
45 million Americans have filed for unemployment, which comes out to nearly a third of the full-time workforce or about 30% of the total employment pool!

Even if we're being TOTALLY OPTIMISTIC, the time it takes to remedy the situation is in YEARS, not months.
I am not discounting another 20% drop between now and the end of 2021, so we believe that more money will BE POURED INTO GOLD since the stakes are so high and the future is uncertain.

$2,000 gold will become a reality!
EXCLUSIVE REPORTS, Featured In This Article and in Others, Which Are Considered ESSENTIAL READING: