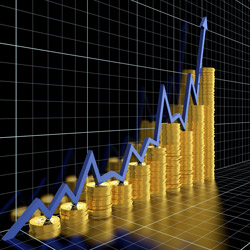 Global stock market panic following the Brexit vote suggests investors around the world are quickly realizing that the collapse of the entire system is inevitable.
Though Brexit may have been the trigger for the latest sell-off, the fall out is merely an indicator of much deeper problems.
And as the crash accelerates, those with foresight are rapidly divesting themselves of traditional assets and moving their capital into safe havens of last resort. The latest move comes from an unknown trader who, according to CNBC, just made a massive bet on gold:
If you missed out on gold's recent rally, fear not, because one savvy trader is betting more than $6 million that the bullion breakout is far from over.

In an eyebrow-raising trade on Tuesday, one trader bet that the gold ETF, ticker symbol GLD, could keep soaring through the summer. Specifically, that trader purchased 66,000 of the September 135/140 call spreads for 96 cents each. Since each options contract accounts for 100 shares of stock, this is a $6.3 million bet that the ETF could rise as high as $140 — or another 7 percent from the current price of around $130.
Whoever this trader is, he's not alone.
As we've previously noted some of the world's most well known investors like George Soros, Stan Druckenmiller and Doug Casey are  making similar bets in expectation of widespread destabilization of the system. Moreover, high net worth family wealth funds are aggressively stockpiling precious metals assets, with many doing so in secret.
While gold bullion has risen precipitously this year, and especially in the wake of Brexit, some forecasts suggest we are nowhere near the top, calling for gold to go as high as $5000 per ounce, which would amount to a 270% increase from here.
Back in 2010 financier George Soros said that gold would become the ultimate bubble.
Is this the beginning of the run-up and eventual "panic buying" ?
Also Read:
Prepare For Economic Collapse: A Step-By-Step Guide
What's Starting Now Will Overturn the Entire System: "Complete Collapse of Everything"
The Gold Vaults Are Running Low, Here's What Happens When They Run Out
Video Update: The Gold Bull Market Awakens: "The Smart Money Is Moving In Big"