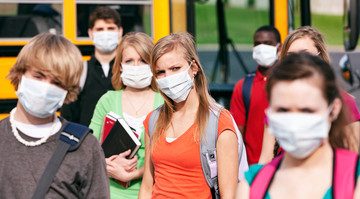 As children and young adults gear up to get back to school this autumn, college campuses that are open will be imposing varying degrees of draconian testing on the students.
Students enrolled at New York's public colleges must first pass a COVID-19 test in order to get access to campus in a bid to prevent the spread of the contagious virus.  Before setting foot on campus, a student must submit to the highly inaccurate (different studies show the PCR tests give a 50-80% false-positive rate) test.
"Given reported delays for COVID-19 test results and lack of testing availability in some areas, all University at Albany students should be tested as soon as possible in order to have results prior to the beginning of fall classes," Michael Christakis, vice president of student affairs, said in a "Dear Great Dane" letter to students, according to a report by the New York Post. 
"If a student living on campus fails to provide the University proof of a negative test or NYS Department of Health clearance document (for students who have had documented COVID-19) before their arrival on campus, they will not be permitted to check in to their residence hall or apartment," warned Christakis. "Until students have a negative test result in hand, they should remain at home."
According to USA Today, The University of Texas at Austin, for example, has banned parties, both on campus and off, saying they put "the health and safety of our community at risk and raise anxiety levels." Tulane University in New Orleans threatened suspension or expulsion for students who throw or attend parties that have more than 15 people and asked students to monitor and report on the behavior of their peers.
On Thursday, Syracuse University, which had suspended a fraternity for violating social distancing rules in the spring, said it had also suspended a group of students for "knowingly violating quarantine orders," spokeswoman Sarah Scalese said.  Most college campuses said throwing a party with 30 to 40 people could be viewed as endangerment to the community.
Before sending your child or teenager back to school, it may do you some good to understand the new "COVID" policies of the school.  Some could look like schools in North Korea or Nazi Germany thanks to the scamdemic.
[WATCH] Social Distancing is a "CIA Protocol" That Amounts To Torture
Schools seem hellbent on the psychological torture of children this year, so be aware of what they could be subjected to during the Federal Reserve's attempted takeover of the world.