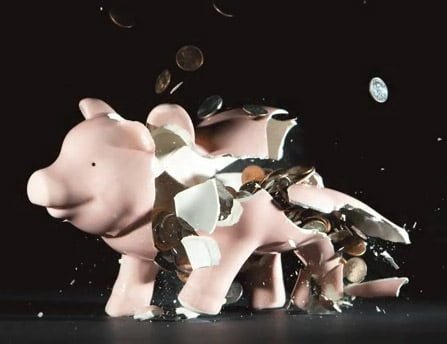 When social security was first implemented in the 1930's, America was a very different country. Especially in regards to demographics. The average life expectancy was roughly 18 years younger than it is now, and birth rates were a bit higher than they are now. By the 1950's, the fertility rate was twice as high as it is in the 21st century.
In other words, for the first few decades, social security seemed very sustainable. Most people would only live long enough to benefit from it for a few years, and there was an abundance of young workers who could pay into the system. Those days are long gone. As birth rates plummet and people live longer, (which otherwise should be considered a positive development) social security's future is looking more and more bleak.
No matter how you slice it, it doesn't seem possible to keep social security funded. In fact, social security is going to start paying out more money than it receives in just a few short years. It may even be insolvent before the baby boomer generation dies off.
According to the Social Security Board of Trustees, the Old-Age and Survivors Insurance, and Disability Insurance (OASDI) Trust Funds will be depleted in 2034.

When this happens, only 77 percent of benefits will be payable. That estimate is no change from last year's estimate.

In addition, the Disability Insurance trust fund will be depleted in 2028, which is an improvement from last year's estimate of 2023. Once that fund is depleted, 93 percent of benefits will be paid.

Right now, Social Security continues to take in through revenue more than it pays it through benefits, which is expected to continue until 2022. Once Social Security begins to pay out more than it takes in, it will be forced to liquidate the assets held by the trust funds.

In 2016, Social Security generated $957 billion in income. It only paid out $922 billion including $911 billion in benefits to 61 million beneficiaries.
But the solutions that have been proposed for this problem don't hold much promise. For instance, we know that simply raising taxes won't work.
But increasing the payroll tax is not a good long-term solution to fixing Social Security. For example a higher payroll tax would have negative economic effects. In addition, it's not even clear that raising the payroll tax would even generate enough revenue.

"Some claim that the solution to preserving Social Security is to raise more taxes, but history shows that doesn't work," said David Barnes who is the director of policy engagement for Generation Opportunity in a statement to the Washington Free Beacon. "In fact, since Social Security was created, payroll taxes have been raised more than 20 times. Twenty times! Yet, the program is still headed towards insolvency."
This is one reason why so many Western countries, almost all of which are suffering from declining birth rates, have been so eager to open their borders to more immigrants. They're trying to bring in as many young workers as they can.
But that's not going to work either. Forget about the high crime rates, terrorist attacks, and social disintegration that Europe is facing now after bringing in millions of immigrants. Even if those problems didn't exist, immigration isn't the solution. The West has had wide open borders for decades, and it hasn't made a dent in the liabilities faced by social security programs (perhaps these immigrants aren't paying as many taxes as these governments had hoped).
We could let younger generations opt out of social security to stave off future obligations, but that wouldn't help fund the current generation of retirees. Social security is already on the path to being underfunded for them, and letting young people opt out would obviously make things worst for current retirees.
There isn't really any viable solution for paying off the future liabilities of social security, aside from cutting the benefits or increasing the retirement age. Otherwise it's going to run out of money eventually, which is the same story with private and public pensions. We are all paying for our retirements in one form or another, but few of us living right now are going to fully benefit from it.
Related:
They Won't Be Able To Pay You: "Anybody With A Pension, IRA, 401k… Any Wealth Held Inside Of The System" Will Get Creamed
Pensions Will Be Wiped Out In America: "Perfectly Primed For The Greatest Financial Disaster"
Why Social Security Is Doomed: "Birthrate At Lowest On Record"… And The Future Is Unfunded