The recent weather events on the east coast should be a wake up call to any of you out there that may have thought about prepping but haven't yet pulled the trigger.
As the storms rolled in, the grocery store shelves cleared out. Usually, groceries stores can predict their traffic flows and sales, and they stock their shelves and hold inventory based on these estimates. But when a far-from-equilibrium event occurs, the grocery store's forecasting model falls apart. Instead of the normal traffic pattern, the store may get hit with 10 or 100 times the regular traffic.
The result is akin to a run on the banks.
This is a Fairfax, VA Wegmans grocery store circa the last few days: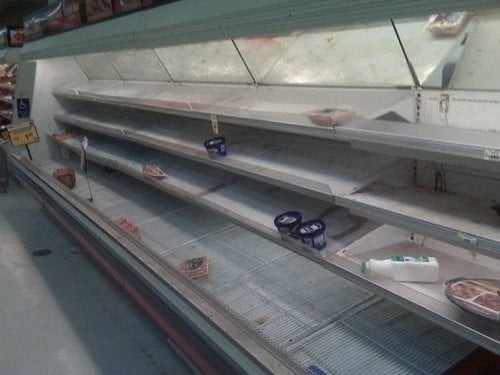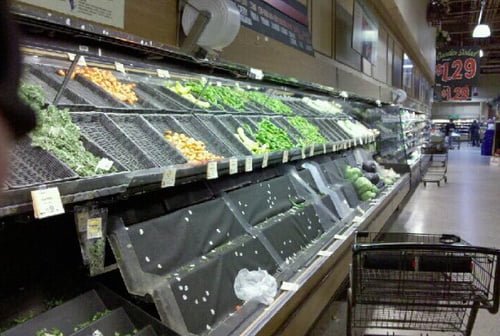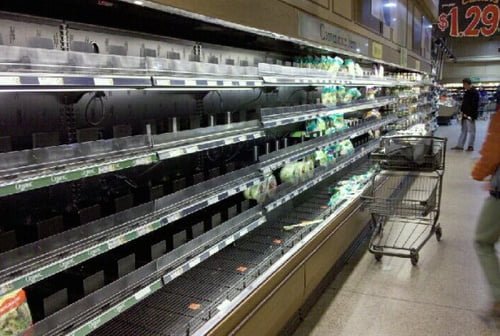 Hat tip Patrick for sending this story, pictures and the following comment our way:
"One more piece of evidence showing why it's good to have a week or two (AT LEAST) of food & water on hand at all times.  And 72-hours worth in your vehicle too if possible.  This kind of craziness should make it clear just how bad things could get in no time at all if a REAL, ACTUAL emergency ever happened."
Any number of events can lead to the exact same scenario depicted above. When Hurricane Ike hit the Houston area in 2008, this is what it looked like at Krogers, Randalls, Super Target. In addition, all gas stations were out of gas, electrical power was down for over 90% of the city for well over a week and in our case nearly three weeks, and the city's water filtration systems failed for two weeks.
Do you really want to be the guy (or gal) that rolls up into the store 8 hours after a major disaster or emergency has been announced and have to come home to your family without any food?
Shameless plug based on fear news: If you do not have a reserve food supply, we'd recommend you check out The Ready Store for a host of great deals on a variety of reserve food supplies like Meals Ready To Eat, Freeze Dried Foods, or Emergency Food Bars.
Disclosure: This web site directly benefits from your purchase of the products recommended above via an affiliate partnership. However, I would not recommend this store or those products had I not personally tried them. I own a supply of all of the products mentioned and linked to above.
P.S.: Be sure to also pick up a 5 to 10 gallon water supply per person in your household – bare minimum. The 5-gallon jugs available at most grocery stores, Home Depot or Ozarka have a two year shelf life, so you can just stick them in the garage and forget about them until you need them.