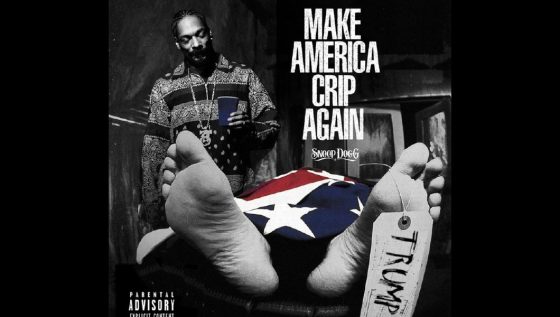 World famous musician, Snoop Dogg just threw himself into headlines, but it's not for his love of marijuana. This time, he's getting attention for all the wrong reasons.
Rapper Snoop Dogg has taken a break from garnering attention for cannabis by posing with president Donald Trump's dead body on his new album cover. Snoop Dogg's new single, "Make America Crip Again," which is the title track on his upcoming EP (extended play), takes aim at Trump and his governing practices. "The president says he wants to make America great again. Fuck that shit. We gonna make America crip again," Snoop Dogg says in the track.
Many are considering the image to be threatening, but a minimum, it's disrespectful. Snoop Dogg claims that his album cover isn't political either. "It's not a statement or a political act: it's just good music. Certain people feel like we should make America 'great again,' but that time they're referring to always takes me back to separation and segregation so I'd rather Make America Crip Again," Snoop Dogg said in a statement obtained by Rolling Stone.
Snoop Dogg's album released October 27 and has drawn applause and harsh criticism for the cover choice. "In my lifetime, that's when young black men in impoverished areas organized to help their communities and to take care of their own because society basically left them for dead. A lot of people glorify the gang-banging and violence but forget that in the beginning, the Crips' main and sole purpose was to be the reflection of the Black Panthers. They looked after kids, provided after-school activities, fed them, and stepped in as role models and father figures."
Of course, to claim that this is not some sort of political stunt by the rapper is absurd. Especially considering this isn't the first time Snoop Dogg has gone after the president. The rapper, who was a vocal supporter of Hillary Clinton during the 2016 presidential campaign, targeted Trump earlier this year in a music video where he can be seen shooting a clown dressed as Trump.
*The scenes in this video may be disturbing to some and are not suitable for all viewers.
According to the Washington Examiner, Trump responded to the video, saying the rapper would have likely faced "jail time" had he pulled the same stunt with former President Barack Obama at the forefront.