This article was contributed by Tom Beck with Portfolio Wealth Global.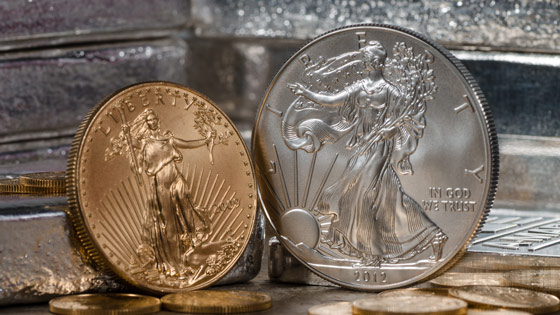 There's no comparison between the two since 1971; gold is simply a BETTER ASSET to own than silver in the past 49 years. It's a fact. Numbers don't lie.
R.H. Macy was an American entrepreneur, but like many others, his first attempts at cracking the world of business, understanding retail tastes and how to run a business, FAILED MISERABLY, and fell short of glory.
In fact, his first four tries at building and managing department stores ENDED IN DEFEAT.
Not many would go for it a fifth time, certainly not FIFTEEN YEARS later, but he did. Macy's became a huge COMMERCIAL SUCCESS.
Silver, much like Mr. Macy, has failed at breaking out several times. Just like Mr. Macy, I'm sure the camp of people who believe in it HAS DWINDLED. After all, gold has multiplied in price 51 times since 1971, while silver has managed to only multiply by 10 times.
Even during the first half of 2020, gold is the CLEAR WINNER.
Right now, though, for a very brief moment of time, silver, the little sister, wants to run faster than its older brother, gold. Portfolio Wealth Global believes that it can.
We see silver hitting $21/ounce (a 12% gain from today's price) before gold hits $2,000 (a 12% gain from today's price as well).
Importantly, once gold does hit the $2,000 mark, silver will VERY QUICKLY jump to $25, as we see it.
In other words, in the NOT-SO-DISTANT future, silver will emerge as the world's HOTTEST COMMODITY.
This has CRITICAL RAMIFICATIONS to our incredibly profitable gold stocks portfolio. It has ALREADY reached the triple-digit hemisphere and still has TREMENDOUS UPSIDE left in it.
Silver invites RETAIL SPECULATORS, which, as you can see, are able to take any company and DREAM UP crazy valuations for it – based on God-knows-what thesis, such as in the cases of many DARLING NAMES of the day, which make no mathematical sense, from a purely fundamental perspective.
We see in the data that the RECOVERY of consumer spending has basically stopped. Americans, who up until February were enjoying a strong jobs market, low inflation, and no health issues, got their heads spun by this global panic.
It will take 3-5 years for the jobs market to recover to its February 2020 condition.
This is REFLATION PERIOD, very similar to the 2009 era when silver made a move from $9 to $49. We do not believe anything like that is BOUND TO OCCUR, but we are ABSOLUTELY CONVINCED that gold and silver stocks are in a rock-solid uptrend, which will be LEGENDARY.
We're seeing it already and in the next three weeks of July and going into August, we will profile a NEW COMPANY, which has never been covered on the pages of ANY NEWSLETTER. We will also be updating on existing profiled companies, which are currently making GIANT STRIDES.
Bond investors have simply NOT BOUGHT INTO the recovery thesis at all. The fact that they're still willingly lending currency to government and PAYING FOR THE PRIVILEGE (negative interest rates), is proof that they are still TERRIBLY UNCONVINCED that the real economy is out of the woods.
The printing presses have to keep filling the ink cartridges because this isn't going to stop anytime soon.
There's so much to this; it's not a rally – it's a BULL MARKET.
The point of NO RETURN is in the rearview mirror.
Fortunes will be made. The mess below is not HUMANLY POSSIBLE to untangle: