This article was contributed by James Davis at Future Money Trends.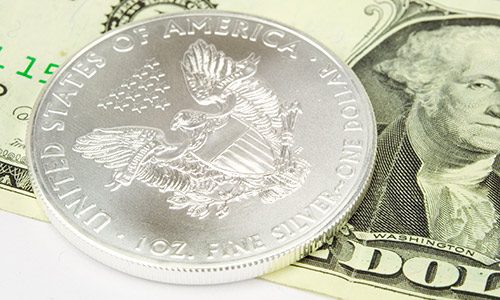 James Davis of FutureMoneyTrends CALLED IT! For over a year, he's been coming ON OUR SHOW and predicting GOLD and SILVER will deliver huge gains! Check his ACCURATE PREDICTIONS, HERE!
We also want to bring you his work TODAY:
SILVER HITS $20/OUNCE!

We're having a tremendous year for precious metals; the gains for the miners have been huge and they're about to get MORE IMPRESSIVE. My CONVICTION LEVEL is 10 and this is definitely a time to be BRAVE AND AGGRESSIVE!
Year-to-date, the spot price for silver is ONLY UP a few percentage points because it fell by 33% in the MARCH PANIC, finally settling at $11.99!

Both in our newsletter and our EXCLUSIVE DOWNLOAD REPORTS, we underscored the UNREALISTIC DIFFERENCE between the COMEX paper quote and the premium for PHYSICAL SILVER. It was clear that silver is worth more than the suppressed bid/ask LIVE QUOTE that London and NYC bankers are manipulating.
Because of the leverage they apply to it, once it begins to catch a MASSIVE BID, the trading desks must cover their NET SHORT POSITIONS, at which point silver's price gets an even more dramatic uplift.
When a one-engine Cessna plane is ready for its takeoff run, the pilot presses on the brakes, asks permission from the tower, and once they receive it and confirm the message "cleared for takeoff," they push the throttle in all the way, release the brakes and accumulate speed. If they pull the control wheel back when the speed is too low, the plane will not have SUFFICIENT LIFT in its wings to elevate, but once a certain speed is reached, you can take this little baby even up to 10,000 ft. The point is that there's a MATH TO THIS game.

Silver has had many FALSE STARTS since 2016 but the speed is OPTIMAL at this moment. We are taking off, PERMISSION OR NOT, and we'll make a killing!

As you can see, silver's spot price PEAKED in July of 2016, precisely four years ago, at $21.79/ounce, so that's where the REAL RESISTANCE is – it might even GET ABOVE it today!

Can we take this one out? YOU BET!
Judging by the range that silver has been trading within, where the low point (SUPPORT) is around $14 and the high point (RESISTANCE) is $20, the breadth is a full $6, which means that there's a 30% upside potential.

Momentum traders and computers, the algorithms that CHASE STRENGTH, will be all OVER THIS.
Both gold and silver sales are similar in ONE REGARD: 19% of each goes into bullion. With silver, the rest is mostly industrial (50%).
This means that the industrial usage of it NORMALLY DICTATES price, but in times like these when the dollar is ABOUT TO CRASH, the bullion investors are gobbling up supply and they'll EASILY PAY even $35/ounce.

Yesterday, I listened to one of the most important fund managers on planet Earth, a person you might have NEVER HEARD OF, Rick Rieder, who oversees trillions of dollars of FIXED-INCOME for Blackrock. He said that he's seeing opportunities in EUROPE for the first time in over a decade!
The euro has been hated for MANY YEARS while everyone loved the dollar.

A change in that relationship only serves to weaken the American currency EVEN MORE.
The Federal Reserve's balance sheet will EXPLODE to over $10T, even reaching $11T in the next 12 months.

This move is going to lead to GREAT FORTUNES in both gold and silver!
Next week, expect updates on existing opportunities and a massive, new idea on how to MASSIVELY CAPITALIZE on what's taking place.