This article was contributed by Tom Beck of Portfolio Wealth Global.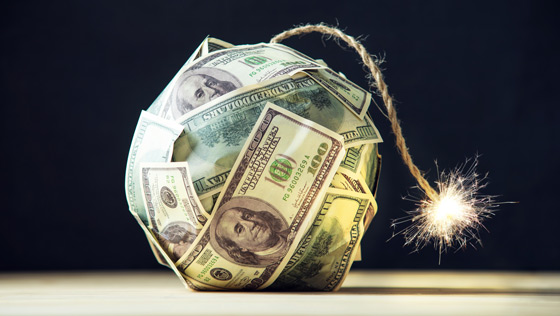 Many may COMPLETELY HATE today's content, but that's because it's BREAKTHROUGH NOTES about how the world's best investors have missed out on the world's most profitable companies of the PAST TWO DECADES. Since they sound very bearish and are warning about a bubble, they've become popular, but are they WRONG, nonetheless?
Technology is advancing SO QUICKLY that value investing as the art of buying companies trading at reasonable multiples of CURRENT EARNINGS is mostly a thing of the past. Today, the name of the game is DEEP THOUGHT into the future.
The generation of Warren Buffett obsessed about competitive advantages, which can ENDURE FOR DECADES, but today's new companies can disrupt existing ways of delivering a product or servicing a customer in a matter of years, not decades. In 20 years, Amazon killed retail shopping. Netflix did away with video and I can give you COUNTLESS OTHER examples.
Changes are rapid and YOU MUST realize that there's a NEW WAY of looking at companies, which is much more profitable than being TRAPPED INTO "VALUE."
As you can see, the algorithms aren't ALL-IN and there are trillions in cash around the world.
The reason stocks are moving up is because businesses, using A.I., robotics and technologies, IN GENERAL, are creating so much wealth that the world is advancing SUPER-FAST.
The thing is that it's really CONFUSING to traditional investors, since they've never encountered, IN THEIR CAREERS, so much revolutionary progress in one generation.
For example, I tried to watch a movie from the 1990's yesterday and had to stop it AFTER FIVE MINUTES. It's almost like you're viewing a movie that has NO CREDIBILITY, since so much has happened in 30 years that the movie looks like it was made by first-graders.
If you're sitting IN CASH MOSTLY, scared to the bone about the national debt, the outrageous social division and all of the other "problems" the human race is attempting to surmount, you'll MISS OUT on millions of dollars in the next few years.
We're in the most technologically-advanced times the human race has ever seen!
Yes, the retail investors are GOING TO GET CREAMED, but there's a trend beneath their crazy behavior; the UNDERLYING EVENT is a technological BREAKTHROUGH AGE!
Don't wait.
Get into the game of understanding TECH INNOVATION; millions will be made.