The following article has been contributed by Dan Carpenter of The Daily Prep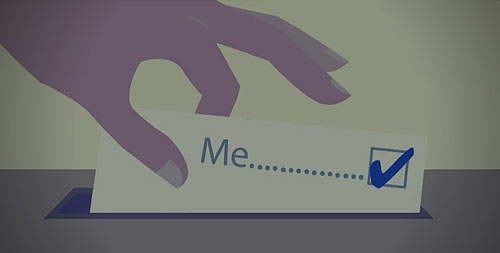 (Image Source: Olga Sheean)
If the presidential elections were an investment, I couldn't be a bigger bear.
That may not come as a surprise, because as a self-declared "political atheist", I'm bearish on a lot of things that some people can't seem to understand. But presidential elections are a particularly wretched form of scum and villainy.
Think about it: For roughly 12 months out of every 4 years, the United States presidential race hijacks the airways and water cooler conversations throughout the entire country. As if by some divine duty, otherwise sane and rational people will drop what they're doing to post infuriating comments to strangers on Facebook. Athletes, actors, and other pop culture icons will suddenly become geniuses on the role of government (one of my favorite phenomenon).
People invest hours, days, and months into this contest of contests. Watching news coverage. Live debates. Attending rallies. In some cases people spend time making phone calls or going door to door for their candidate of choice. It's utter hysteria.

And yet, if you're honest with yourself, will anything about your life fundamentally change on November 8th, no matter who gets elected?
Will you have a new job? A new house? Will your kids love you more? Will you stop liking Mexican food? Will you suddenly become a billionaire? Have a different set of hobbies? New friends?

No. Your candidate either wins, or loses. The End.
I hate to break it to you, but the tax breaks, the bread and circuses, the troops coming home, and a million other things aren't really tied to the election either. Your candidate is not going to "save" America. You're not getting a shout out. You're not going to 1600 Pennsylvania Ave. for dinner. Sorry.
So, in what world is the time that you spent worrying about it all a good investment?
<cue the crickets>
For the heck of it, let's assume that most Americans (and plenty of folks across the globe) spend 1 hour a day engaged in the elections–news, workplace convos, Facebook debates, political talk radio on the commute, etc. (sadly, that estimate is probably on the low end).
Now, what if you actually funneled that time into something that actually has a positive effect on your life? Something that's completely within your reach, something that you actually have control over.
Well, because I'm a friend, I put together a handy "quick reference guide" of a few things that will yield a higher ROI on your time than the presidential elections (feel free to forward to any wayward souls).
5 Time "Investments" Better Than The Presidential Elections
Your Health: Let's get real, your health has a lot to do with your day to day existence. You know it, I know it, everybody knows it. It affects who you hang out with, where you go, and what you do. It affects your ability to do the things you love, shapes how you feel about yourself, your relationships with other people, and your overall sense of well-being. Rather than dumping hours and days of your life watching pundits on the idiot box, why not take up jogging? Go hardcore and train for a marathon. Or just find a place you like to get out and walk. Find a rec league and join a sports team. Break out the yoga mat and get flexible. Maybe for you it's about committing to finally get on a better sleep schedule. Guess what, no matter what you choose to do to improve your health, when November 8th rolls around, you will 100% be in a better place. For sure. Not maybe. Not "if."
Your Pocketbook: For most of us on the planet today, even generating 10% more income could have a pronounced positive effect on our lives. Well, guess what? Our hypothetical 1 hour a day could go a long way towards ramping up that income. How about using that time to crank away on your side hustle? Do odd jobs. Drive Uber 30 hours a month. Some of us have the ability to simply put in overtime at our current jobs. Awesome, do it! What does 30 hours a month of overtime do to your bottom line? Work on your book idea. If you are ever going to do it, the time has to come from somewhere–why not take it from the scrap pile of presidential nonsense?
Pick Up A Hands On Skill: Today's generation sorely underrates the value of hard skills, but then again, today's generation is up in the night about a lot of things. There is a direct relationship between hands on skills and self-sufficiency. So why not get your ass off the couch and learn one? Try your hand at beekeeping. Plant a garden. Practice wood-working. Take a night class at the local community college to learn welding or car repair. Learn about storing and preserving food. Construction. Landscaping. Alternative energy. Maybe it's a computer program that you've been wanting to learn–animation, modeling, CAD. Self-defense. Photography. Shooting. Take your pick. No matter what you choose, you're still doing something that adds value to your life, instead of sucking the life out of it.
Actually LEARN About Government: While everybody's arguing about Hillary and Ted Cruz, here's a question for you–can you actually name your local leaders? (No cheating!) Your representatives? Senators? How about your state officials? City council? What about the Constitution? Most Americans haven't read it. Most Americans don't even realize that the entire document can be read in under an hour. If all-of-a-sudden everybody wants to be an expert on running the country, then maybe they should start at the beginning. Take a little time away from the presidential charade and actually learn about the founding document of America's government. While you're at it, it wouldn't hurt to throw in the Declaration of Independence too!
Volunteer for a non-profit: Whether it's saving the whales, saving trees, or saving souls, doing work for a non-profit that you actually care about trumps the presidential nonsense any day. I'm not here to tell you which one–you pick. But think about it–every day that charity that you care so much about could desperately use some help in any number of ways. There are after school sports to referee, roadsides to clean up, phone calls to help make, houses to build, there's accounting, marketing, website work, and a million other things to help them with… And then there's the campaign watch every night on the 5:00 news.

There you have it. Five investments that are higher-yielding than the silly elections. You're welcome.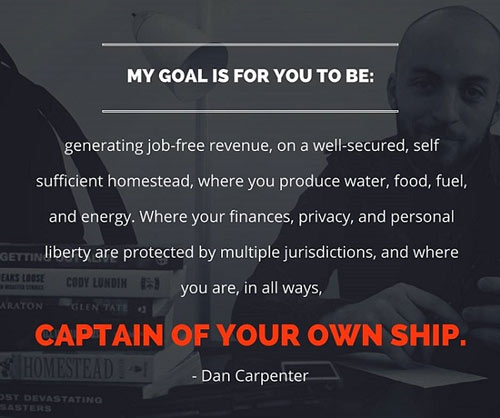 Image Source: The Daily Prep
Vote For You
My message is plain. Short the elections, and go long on YOU. I want you to be your own CEO, the captain of your own ship. If you are going to cast votes and make investments, make them in yourself. Make them in things that will give you more control over your life and happiness, not less.

There are still roughly 180 days until the presidential elections in November. The media, the pundits, and your well-meaning neighbors will doubtless have plenty to say about it all. But while everybody else is spending their time "feelin the Bern", or talking about what a monster Trump is, do something that actually yields a positive ROI with yours.
---
Since 2010, Dan Carpenter has published articles, guides, and over 400 videos teaching people how to be self sufficient, on his site The Daily Prep. He is a Certified Permaculture Designer, and a major proponent of alternative housing and internationalization. Check out his self sufficiency guides here, or follow him on YouTube.