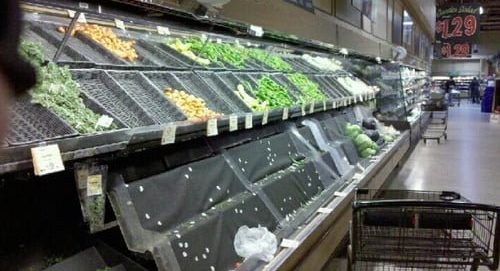 As businesses and families struggle to get by in the aftermath of the government's massive overreaction to the coronavirus scamdemic hoax, shoplifting in grocery stores has been spiking. This is a case where people are stealing food, not overpriced luxury goods.
America is well on its way to becoming a third world country thanks to people's continual obedience to the state's disastrous orders. As of right now, the statistics are bad, but they are expected to get a whole lot worse as the entire economy collapses in a heap.  More than 20 million Americans currently on some form of unemployment assistance.,  and some 54 million Americans are projected to struggle with hunger this year. This is an increase of 45% from the year prior, as noted by the USDA. And according to The Washington Post, more Americans are shoplifting for basic necessities at the grocery store more than ever before.
more than 20 million Americans currently on some form of unemployment assistance. As income disappears and families begin to experience hunger, the prevalence of shoplifting heightens, says a new report.
"We're seeing an increase in low-impact crimes," Jeff Zisner, chief executive of workplace security firm Aegis, told The Washington Post. "It's not a whole lot of people going in, grabbing TVs and running out the front door. It's a very different kind of crime—it's people stealing consumables and items associated with children and babies."
The Census Bureau also told The Washington Post that nearly 26 million adults reported not having enough food to eat as of mid-November, a record high.

Resources for food assistance programs are becoming sparse for those in need as well, which is another reason why Americans are turning to shoplifting. Meal shortages are on the horizon at major food banks across the country too, as federal funding is set to expire at the end of the month. In addition, food aid programs such as SNAP and WIC are being reduced. –Yahoo News
It won't take many more restrictions or lockdown rules to plunge what used to be the world's most abundant economy into a massive crash that we've never seen.  Get prepared now, if you aren't already.  2021 is not going to be much easier for so many.