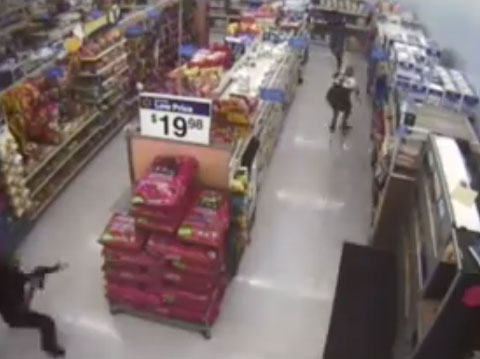 In early August John Crawford III went to Walmart on what was supposed to be a normal shopping trip. While there, Crawford happened across an unpackaged BB gun that he picked up off the shelf in the sporting goods section of the store. He proceeded to walk around the store and make a cell phone call.
A concerned citizen at the Walmart had apparently thought Crawford was holding a real rifle. According to an Infowars report, the man called 9-1-1 and reported that an individual was walking around with a gun in the store.
The witness who phoned police, ex-marine Ronald Ritchie, reportedly told 9-1-1 he saw Crawford "walking around with a gun in the store," and that he was "loading it right now," and pointing it at customers and children.

He "was just waving it at children and people. Items…. I couldn't hear anything that he was saying. I'm thinking that he is either going to rob the place or he's there to shoot somebody else," Ritchie said.
Two police officers responded to the call. According to the officers, Crawford failed to comply with orders to drop the weapon when police approached him.
Seconds later he was dead.
But a new surveillance video released just days after a Grand Jury found that the officers had acted appropriately and chose not to level any charges against them shows a slightly different set of events. In the split screen video below, which shows officers approaching Crawford, it appears that Crawford did drop his weapon and subsequently dove for cover. Crawford then gets up and runs around a corner, at which point he is shot at near point blank range.
Watch the raw footage for yourself and decide if police were justified in their actions:
The video shows that Crawford immediately dropped his weapon and dove for cover when he spotted someone coming towards him. As another officer flanked him from the other side, Crawford may have panicked, jumped up and ran for cover down the other aisle. It just so happened that the other officer was coming towards him at the time. Perhaps that officer, who had his weapon drawn, was startled as Crawford came around the corner.
Though the Grand Jury chose not to charge the officers, the Justice Department has promised to look into the matter.
Did police act within the law when they shot and killed John Crawford? Or is this another case of overzealous cops making a choice to shoot first and ask questions later? Or, was this just a situation that went awry when both parties – Crawford and the police officers – panicked?
Hattip The Daily Sheeple and The Free Thought Project