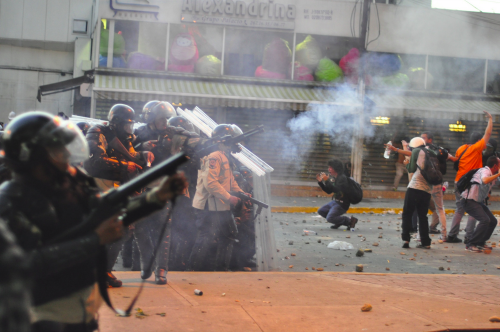 For several weeks Venezuela has been rocked with protests and riots as the Maduro regime increasingly tightens its grip on the population. It seems as if security forces are brutally cracking down on dissidents on a daily basis now. Wednesday in particular, saw some incredibly tense clashes between protesters and government forces in the capital city of Caracas. According to Bloomberg:
Injuries throughout the city included 134 traumas and 17 cases of people overcome by gas, Mayor Ramon Muchacho of the opposition-dominated Chacao municipality said in a post on his Twitter account. Those hurt included lawmakers Freddy Guevara and Julio Montoya. The opposition coalition, known as MUD, said in a statement that more than 300 people were injured in today's clashes.

The South American nation has been riven by protests for weeks, and President Nicolas Maduro has called for a popular assembly to write a new constitution, a fresh attempt to consolidate control. Hundreds of thousands have taken to the streets to protest what they say is a plummet into autocracy. Protests over the past month have resulted in at least 30 deaths, and opposition politicians have vowed to continue street actions.
Of course, those are just statistics. To really appreciate the human costs of these events, you have to see it with your own eyes rather than just read about it. Take a look at what happened yesterday in Caracas, after an armored vehicle owned by the Venezuelan National Guard caught fire.
This is what civil unrest really looks like. It's dirty, chaotic, and bloody. Let's pray it never escalates to this point on our streets.