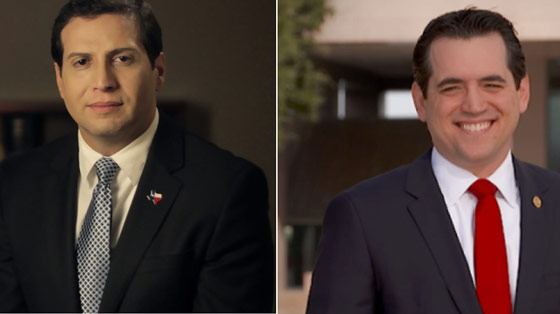 (Pictured: Texas State Representatives Panco Nevarez (Left) and Matt Rinaldi (Right) Came To Blows On The House Floor Over Illegal Immigration)
We've repeatedly warned that the division festering among the Left and Right could soon lead to violence across America and the real possibility of a civil war. Earlier this year we reported that Anti-Fascist groups were beginning to arm themselves for physical violence after taking a beat down in Berkeley.
And while attacks have thus far been limited to protesters clashing on college campuses and speaking venues for Republicans, things have now taken a drastic turn.
Hours ago, as supporters of illegal immigration massed to protest the policies being put into place by the new White House administration and the Texas State government, two Texas legislators nearly came to blows in the Capital.
According to Republican legislative representative Matt Rinaldi, he was accosted by Democrat Poncho Nevarez.
The argument stemmed from the fact that scores of protesters were waving signs in Austin, TX, with many identifying themselves as illegal immigrants. Rinaldi reportedly had enough of the disturbance and contacted ICE agents. When Rinaldi advised the House Floor that the agents had been contacted, Nevarez apparently lost total control of his faculties and began assaulting him, to the point that other legislators had to step in to break up the fight.
Nevarez then directly threatened violence against Rinaldi because of his call to ICE. Reports claim that not only did Nevarez threaten Rinaldi's life but indicated that he would wait for Rinaldi to leave the legislature and would get him on the way to his car.
Rinaldi, who is a concealed handgun licensee, responded by saying that he would shoot in self defense if forced to and reportedly said that he would put a bullet in the head of Nevarez if confronted.
But even after the protest ended, tensions remained high. Rep. Ramon Romero, a Democrat from Fort Worth, said he was standing with fellow Democratic Rep. Cesar Blanco of El Paso when Republican colleague Matt Rinaldi came over and said: "This is BS. That's why I called ICE."

Rinaldi, of Irving in suburban Dallas, and Blanco then began shouting at each other. A scuffle nearly ensued before other lawmakers separated the two.

Later, a group of Democratic lawmakers held a press conference to accuse Rinaldi of threatening to "put a bullet in the head" of someone on the House floor during a second near scuffle. They said the comment was made in the direction of Democratic Rep. Poncho Nevarez, from the border town of Eagle Pass.

In a subsequent Facebook statement, Rinaldi admitted saying he'd called federal authorities and threatened to shoot Nevarez — but said his life was in danger, not the other way around.

"Nevarez threatened my life on the House floor after I called ICE on several illegal immigrants who held signs in the gallery which said 'I am illegal and here to stay,'" Rinaldi wrote. He said Democrats were encouraging protesters to ignore police instructions and, "When I told the Democrats I called ICE, Representative Ramon Romero physically assaulted me, and other Democrats were held back by colleagues."
Rinaldi took to Facebook to share details of the incident and express his concerns: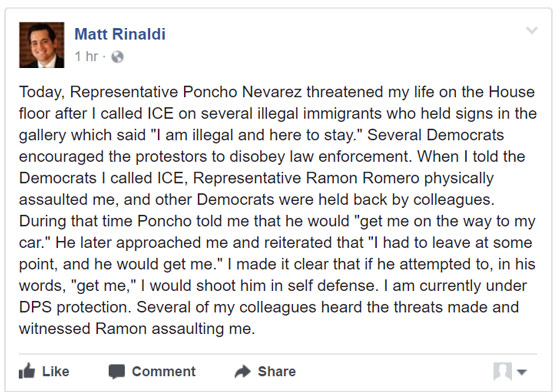 Supporters of undocumented and illegal immigration will no doubt applaud the threats made by Poncho Nevarez, underscoring just how tense the situation has become across the country.
The only question now is… how long until the shooting starts?
Related:
Civil War Is Coming to the U.S.: "Left WILL Resort To Large Scale Violence… To Stop Fascism"
There Will Be Blood: Left Prepares For War After Berkeley Beat Down: "Combat Training, Better Equipment, Guns…"