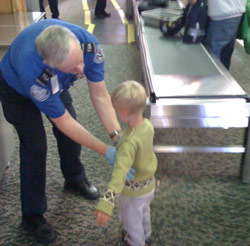 With an annual budget of over $7 billion Transportation Security Administration officials claim that they set the standard for excellence in transportation security and counterterrorism.
But a recent investigation reveals that when undercover operatives attempted to smuggle banned weapons and even explosives through checkpoints nationwide the TSA failed to stop them 95% of the time.
The shocking security report shows that despite the billions of dollars spent and the millions of American citizens being inconvenienced, and often humiliated, America's airports are no safer today than they were before the attacks of September 11th, 2001:
An internal investigation of the Transportation Security Administration revealed security failures at dozens of the nation's busiest airports, where undercover investigators were able to smuggle mock explosives or banned weapons through checkpoints in 95 percent of trials, ABC News has learned.

The series of tests were conducted by Homeland Security Red Teams who pose as passengers, setting out to beat the system.

According to officials briefed on the results of a recent Homeland Security Inspector General's report, TSA agents failed 67 out of 70 tests, with Red Team members repeatedly able to get potential weapons through checkpoints.

In one test an undercover agent was stopped after setting off an alarm at a magnetometer, but TSA screeners failed to detect a fake explosive device that was taped to his back during a follow-on pat down.

Officials would not divulge the exact time period of the testing other than to say it concluded recently.

Source: ABC News
The government claims that because undercover "Red Teams" are familiar with TSA protocols and vulnerabilities the security investigation results are not reflective of real world results.  According to former TSA administrator John Pistole that because these "super terrorists" have access to TSA procedures "they can create and devise and conceal items that … not even the best terrorists would be able to do." 
In effect the government is telling us that even though TSA failed to catch 95% of the explosives and weapons being smuggled onto planes, Americans have nothing to worry about because an actual terrorist would never know how to compromise the system.  A real terrorist, whose sole purpose in life is to kill as many Americans as possible, would not have the time, resources, commitment or brains to identify weak points and gather intelligence about the vulnerabilities within the TSA's security protocols.
But what can we expect from an organization whose front-line officers make just a hair over minimum wage?
For one, we can expect these highly trained agents of counter-terrorism to laugh and snicker while Americans go through demeaning screening procedures while being fondled.
And as for those highly secretive protocols, perhaps if the TSA focused on searching potential terrorists before they board public transportation, as opposed to pat-downs of moms and their children after they disembark from their travels, they'd be a bit more successful in stopping people who were trying to smuggle weapons aboard.
But no matter how wasteful or ineffective the Transportation Security Administration may be with respect to their actual duties, there are still those, fully one-third actually, who have succumbed to the years of propaganda and would gladly and without protest accept a full body cavity search for the privilege of flying.