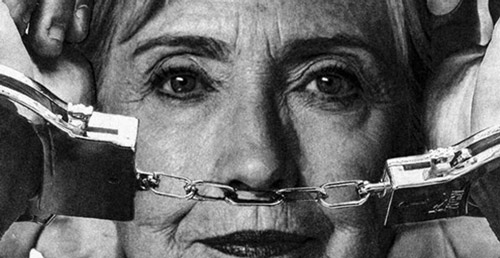 With Wikileak's Julian Assange announcing this week that a new trove of hacked Hillary Clinton documents will be released to the public, it has been claimed that this latest leak of sensitive campaign material may be the death knell for the former Secretary of State.
But this next round of leaks may not just include damning emails that tie Clinton to pay-to-play schemes through her family's Clinton Global Initiative fund.
According to a 4chan post from an anonymous source who appears to have inside knowledge of the coming leaks, hackers have obtained personal videos of Hillary Clinton that will reveal "the real Hillary." The source of the leak is reportedly Clinton's closest aide, Huma Abedin.
Via Red Flag News:

The 4chan user, posting anonymously, said "SHTF (sh*t will hit the fan) in 48 hours.

"Huma Abedin is the leak.

"Private videos of Hillary shot by her to be released," the post reads.

The post alleges they were videos of Hillary Clinton in meetings that "prove treason."

The post claims Russia Today has the videos — given to them by J.A. (likely Julian Assange) — and will air them likely Saturday.
The original 4Chan post: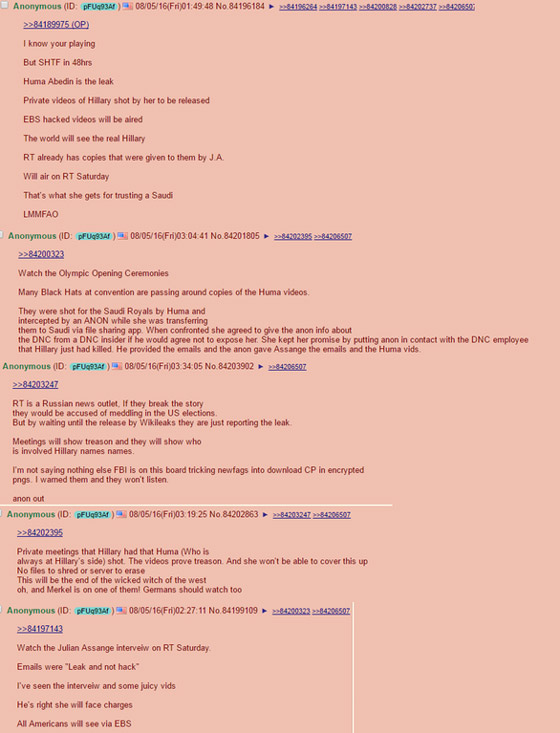 We can only hope…
Also See:
Must Watch: The Truth About Hillary's Bizarre Behavior: "Does She Have Actual Brain Damage?"
Clinton Cash Investigative Documentary
No One Can Stop Her… And She Knows It: "This Election Won't Be Fair"
Video: Hillary Clinton Is a Threat to All Humanity — World War III "On the Table" — Her Candidacy Must Be Opposed
As Hillary Steals the White House, Five More Added to "Clinton Body Count"