President Obama needs your help. In a July 15, 2011 briefing he told the American people that we have to be willing to seize the moment, but that it would take shared sacrifice to do it:
And so during the course of these discussions with congressional leaders, what I've tried to emphasize is we have a unique opportunity to do something big. We have a chance to stabilize America's finances for a decade, for 15 years or 20 years, if we're willing to seize the moment.

Now, what that would require would be some shared sacrifice and a balanced approach that says, "We're going to make significant cuts in domestic spending."

-Barack Obama July 15, 2011 (video)
While Americans are chipping in by sacrificing their jobs, homes, kid's college tuition, and their retirement plans, Ms. Obama apparently missed her husband's speech:
White House sources today claimed that the First Lady has spent $10million of U.S. taxpayers' money on vacations alone in the past year.

Branding her 'disgusting' and 'a vacation junkie', they say the 47-year-old mother-of-two has been indulging in five-star hotels, where she splashes out on expensive massages and alcohol.

…

The First Lady is believed to have taken 42 days of holiday in the past year, including a $375,000 break in Spain and a four-day ski trip to Vail, Colorado, where she spent $2,000 a night on a suite at the Sebastian hotel.

And the first family's nine-day stay in Martha's Vineyard is also proving costly, with rental of the Blue Heron Farm property alone costing an estimated $50,000 a week.

The source continued: 'Michelle also enjoys drinking expensive booze during her trips. She favours martinis with top-shelf vodka and has a taste for rich sparking wines.

'The vacations are totally Michelle's idea. She's like a junkie. She can't schedule enough getaways, and she lives from one to the next – all the while sticking it to hardworking Americans.'

…

While the President and his wife do pay for some of their personal expenses from their own pocket, the website whitehousedossier.com says that the amount paid by the couple is 'dwarfed by the overall cost to the public'.

Source: Daily Mail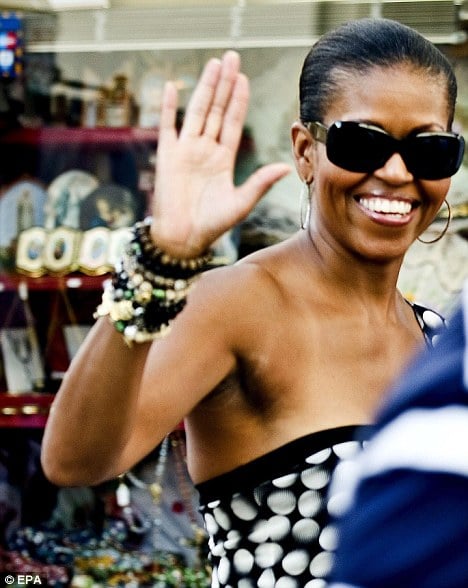 We would comment, but none is necessary.
Hat tip Patriot One