This article was contributed by Tom Beck of Portfolio Wealth Global.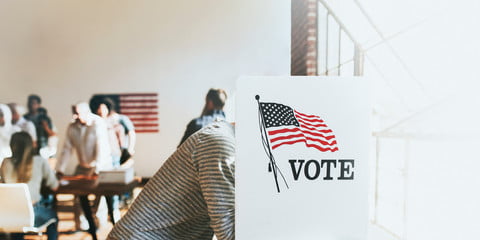 Should you care who wins THE COMING ELECTIONS? The answer is YES, more than ever before.
What is SO SPECIAL about this November vote? The answer is that unlike the majority of American history, today's government plays such a huge role in the life of the average person that he MUST VOTE.
In ancient times and even just a few decades ago, the role of president was important, but it didn't matter as much as it does today.
The government is PRO-ACTIVE in the life of the average voter in 2020 in the western world in ways and ORDERS OF MAGNITUDE unlike any other time in the past 80 years.
The next president will decide on tax reforms, foreign policy with China, and the fate of industry, commerce, and federal incentives.
The incoming administration will intervene in your local state, city, and municipality, with either MORE REGULATION or less of it, with stricter rules on education or with flexible ones. The agenda will either include open borders or enforcement of immigration laws; most of all, the administration will either STRIVE TO INCLUDE more people in the booms or keep it all to themselves.
More than anything, the next elections will either be, for the first time in American history, EXTREMELY GOOD or really bad for you, depending on your views – no in between.
Having said all that, the next president CAN'T MAKE you rich, unless you're already tight with the key people in the administration, since the wealthy are the ones who care about elections the most.
If you want to become wealthy, you'll have to DEVELOP SKILLS, not connections within the government.
Being around politicians is certainly a MAJOR ADVANTAGE in business, but it is reserved for the few in each city.
Having financial security in your own life will depend upon BUILDING STRONG TIES with successful people, be they your hotshot boss (if he/she isn't, consider LEAVING THEM the first chance you get), a loyal and capable partner or a few CORE CLIENTS, whom you'll need to make sure NEVER LEAVE YOU.
In the 21st century, riches are about BEING EXCEPTIONAL in a profession or FLAWLESS IN RELATIONSHIPS and judgement.
You're either going to be paid a ton to make a few CRITICALLY IMPORTANT decisions every week and connect with people, so they'll want to follow and do business with you; OR, you're the one EXECUTING ORDERS, but in a way that few can.
If you're neither, know that Biden and Trump can't help you. The way you get out of this mess is by CRAWLING OUT of it.
Know that there are AMAZINGLY TALENTED people working their asses off to become the next CEOs of America's biggest companies or the proud owners of a small business; they're your direct competitors. Escape mediocrity, refuse to accept any of it, and STRIVE FOR EXCELLENCE.
Can you and WILL YOU give it your all? Can you put the stories behind you and BLOW PAST the competition, by knowing no limits to your craft?
The world is YOUR OYSTER then, no matter where you're reading this and what the balance of your bank account is currently showing.