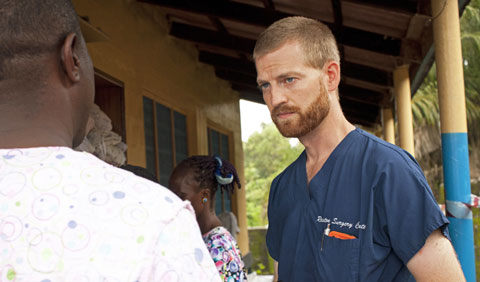 (Pictured: Dr. Kent Brantly)
Dr. Kent Brantly, who has dedicated his life to helping those in need with the Samaritan's Purse organization, can be described with a single word.
Selfless.
A dose of "experimental serum" arrived in Liberia to be tried on a U.S. charity worker struggling for her life — but there was only enough for one of the two infected workers, so Dr. Kent Brantly asked that it be used on his colleague, the group Samaritan's Purse said Thursday.

Dr. Brantly, a doctor with the group who was also infected, tried an alternative treatment, using blood transfused from a young survivor of the virus.

"Yesterday, an experimental serum arrived in the country, but there was only enough for one person. Dr. Brantly asked that it be given to Nancy Writebol," Franklin Graham, president of Samaritan's Purse, said in a statement. "However, Dr. Brantly received a unit of blood from a 14-year-old boy who had survived Ebola because of Dr. Brantly's care. The young boy and his family wanted to be able to help the doctor that saved his life."
Even with death knocking at his doorstep this American faces it with the ferver of a true hero.
An earlier report indicated he was up and moving around on his own as recently as 24 hours ago, but he is still in critical condition according to physicians.
The Ebola virus has a mortality rate of 90%.
Dr. Brantly may have contracted the virus in a decontamination area and sought treatment as soon as his symptoms were identified, a move which may have given him a fighting chance at beating the deadly disease.
Our thoughts are with him, his family, and others who are fighting for their lives right now.