Editor's Note: The great conspiracy is that there exist a group of individuals dubbed "The Powers That Be" who work in conglomeration to effect political, economic, financial, and monetary changes around the world. Most would laugh at the notion that such puppeteers have widespread influence and control over leaders in positions of power that include corporate heads, central bank chairman, media personalities and even Presidents.
But, what would it take for the people to realize that such powers do exist? Would it be enough if, say, a sitting President made direct reference to them? What if there existed proof of such a reference?
Check out the secretly recorded audio below of none other than President Barrack Obama claiming that these "powers that be" not only exist, but that they had a direct influence on the 2012 Presidential election.
They're real, and the President of the United States just provided direct confirmation of this fact.
---
Via Activist Post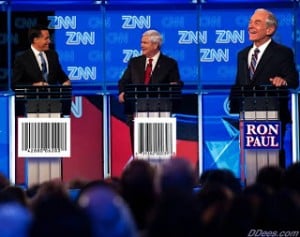 Obama was secretly recorded during the 2012 election saying that "the powers that be want it to be Romney…and it looks like that's what it's going to be."
Referring to how Ron Paul was obviously robbed in Maine, Obama says "Look what they did up in Maine…They wanted Paul out of the picture quickly, and we all know what happened there."
And to confirm that he's part of the "Powers That Be", he says "I can't say I blame them."
"Well, it's a moot point now anyhow. He's done," Obama said apparently referring to Ron Paul's hopes after the GOP engaged in outright fraud to ensure a victory for Romney.
This short 38-second video clip speaks volumes about how manipulated the presidential elections are:
Originally Published by Activist Post
Image courtesy Dees Illustrations