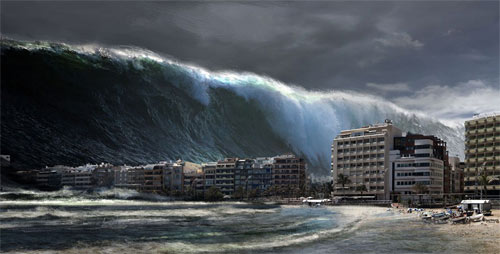 Every region is associated with at least one type of natural disaster. If you live in the Midwest you have tornadoes to contend with, and in the South you have to worry about hurricanes. Folks in New England have to worry about snowstorms, and people who live in the West need to consider earthquakes and forest fires.
We take these facts for granted. We assume that certain places are in the path of specific disasters, and immune to others. That however, isn't the case when it comes to tsunamis. At least not for practical purposes. That's because the scientific community is still discovering new underwater fault lines that have the potential to cause devastating tsunamis. If you live on a coastline, your home could be at risk of being swept away and you wouldn't even know it. In fact, scientists have just discovered a new fault off the coast of Alaska that could produce a tsunami that is the same size as the wave that wrecked Fukushima.
Scientists probing under the seafloor off Alaska have found a geologic fault they say signals significant risk of a mega-tsunami in future.

The feature closely resembles one that produced the 2011 Tohoku tsunami off Japan, killing some 20,000 people and melting down three nuclear reactors.

Writing in Nature Geoscience, the team warn a large tsunami in in the area 'could have devastating consequences to coastal communities locally in Alaska and around the Pacific Ocean'

Tsunami waves triggered by the newly discovered fault could hit more southerly North American coasts, Hawaii and other parts of the Pacific, the researchers claim.

Similar structures may lurk undiscovered in other areas of the world, they warn.

The discovery 'suggests this part of Alaska is particularly prone to tsunami generation,' said study lead author Dr Anne Bécel of Columbia University, New York.

'The possibility that such features are widespread is of global significance.'
The fault is roughly 600 miles off the coast of Anchorage, and according to one of the coauthors of the study, it could "make a tsunami a lot more effective." However, this is hardly the first time that scientist have discovered a fault with devastating potential in a region that they weren't originally expecting to find it.
The Cascadia Subduction Zone, which lies mainly off the coast of Washington and Oregon, is capable of causing a 9.0 earthquake that would undoubtedly spawn a massive tsunami. The scientific community was completely unaware of this subduction zone until a few decades ago, because it will go centuries without producing any earthquakes. But on the rare occasion that it does, they are humbling. If the Cascadia fault erupted today, it would be the most destructive natural disaster in American history.
In the Pacific Northwest,

the area of impact will cover* some hundred and forty thousand square miles

, including Seattle, Tacoma, Portland, Eugene, Salem (the capital city of Oregon), Olympia (the capital of Washington), and some seven million people. When the next full-margin rupture happens, that region will suffer the worst natural disaster in the history of North America. Roughly three thousand people died in San Francisco's 1906 earthquake. Almost two thousand died in Hurricane Katrina. Almost three hundred died in Hurricane Sandy.

FEMA projects that nearly thirteen thousand people will die in the Cascadia earthquake and tsunami. Another twenty-seven thousand will be injured, and the agency expects that it will need to provide shelter for a million displaced people, and food and water for another two and a half million.

"This is one time that I'm hoping all the science is wrong, and it won't happen for another thousand years," Murphy says.
The sobering fact of the matter is that there is still a lot we don't know about our own planet. Not only can a disaster strike anywhere, but certain disasters can strike in places where we least expect them to, and where we are the least prepared for them. That's why it's important to be prepared for any situation. Mother nature is cruel and ruthless, and she doesn't care where you live or what you think you're ready for.
Related:
The Prepper's Blueprint: The Step-By-Step Guide To Help You Through Any Disaster
FEMA Preps For the Big One: "Involves A 9.0 Earthquake Along Cascadia Subduction Zone"
Silicon Valley Survivalists Builds DIY "Extreme Weather TsunamiBall" To Ride Out Disaster
Are Devastating Tsunamis Headed for American Cities? "There's Enough of a Chance"