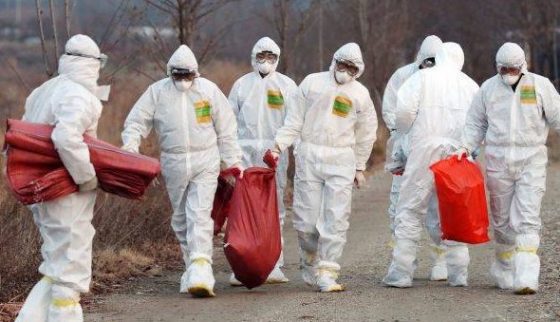 As of right now, the flu is a bigger concern in the United States than the coronavirus.  While we should all be paying attention to both viruses, it's important to know that there's a chance the coronavirus could evolve making it much worse than the flu, says a scientist.
Infectious disease expert Ian Lipkin said: "It's a new virus. We don't know much about it, and therefore we're all concerned to make certain it doesn't evolve into something even worse." Lipkin is currently on a 14-day self-quarantine after traveling to China to advise local health officials on the outbreak.
Lipkin, the director of the Center for Infection and Immunity at Columbia University's Mailman School of Public Health, was in Guangzhou and Beijing, where he advised local health officials on the outbreak. He said he did not travel to the city where the coronavirus emerged, Wuhan in central China, because it would have been more difficult to return to the U.S. Lipkin, who worked on the 2003 SARS outbreak, said it is true that seasonal flu presents its own kind of problem, noting that globally up to 650,000 people die from it each year.
But if the coronavirus mutates or evolves (as coronaviruses have a tendency to do) it could be a much worse problem than the flu.  So far, the death toll from the coronavirus is over 1000.
The coronavirus is "not nearly as challenging for us as influenza" when seen strictly by the number of deaths, Lipkin said.
But that is not the only thing scientists should be concerned about.  Much more is known about influenza than the new coronavirus.  "We don't know much about its transmissibility. We don't necessarily have accurate diagnostic tests. And we don't really know where the outbreak is going to go," Lipkin said on CNBC's "The Exchange." "The only thing we have at present, absent vaccines or drugs, is containment," he added.
And containment efforts have so far had little effect on the spread of the virus. Lipkin said he estimates the mortality rate of the coronavirus will ultimately be less than 1%. But that figure is "speculative" because more antibody tests need to be conducted "so we can figure out who might have been infected but not manifested signs of disease," he said.
Lipkin also stated that he thinks the Chinese government is being transparent about the number of infected individuals and the death toll stastics.
It also doesn't account for any evolutions or mutations that could make the virus much more deadly than it is now. Because it still is not known how this virus is being transmitted, the best way to protect yourself is with an N100 face mask and taking on good handwashing techniques.
There is a possibility the coronavirus is spread through water droplets (such as those expelled during a cough or sneeze) but it could also be airborne.
How To Stay Healthy During Flu Season And Prevent Coronavirus Infection
This article contains affiliate links.